Things You'll Need
Bricks

Cement

Premixed mortar

Metal strap anchors

Masonry trowel

Level

Jointer

Metal or copper bristled brush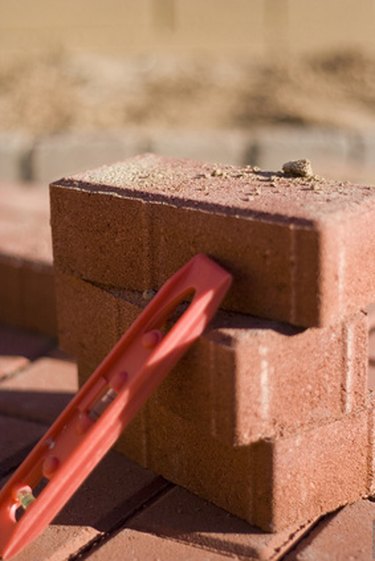 Bricking a manufactured home is an excellent way to increase the value of the home and property. Brick exteriors on these types of homes can easily increase the value of the home two to three times more than its current price. Encasing the home fully in brick is a time consuming project, but can be accomplished within a few weekends, depending on drying times and weather. Choosing color and style of brick is simply personal preference, and the brick will add a beautiful finishing touch to any manufactured home, while also protecting it from certain elements.
Step 1
Remove the skirting around the home, and check the blocks underneath the home for stability. Add cement mixture to the concrete blocks underneath the home to increase security and stability. Allow to dry 24 to 48 hours. Remove the vinyl siding and shutters from the outside of the home.
Step 2
Dig the foundation area around the base of the home to a depth of two feet. Once the foundation is dug out, fill the area with cement mixture until it touches the base of the home. Level and allow to dry 48 to 72 hours.
Step 3
Attach the metal strap anchors to the home. Place the anchors around the cement base, one foot apart, completely around the home.
Step 4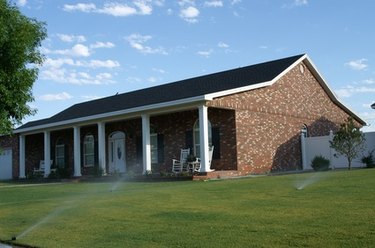 Place the first layer of brick around the concrete foundation. Lay a thick layer of mortar down, leveling it with the trowel, then press each brick firmly into place. Cover the sides of each brick with mortar, and follow this pattern until the first layer is set. Ensure placement is secure by using the level and using the trowel's handle to lightly tap the brick into place more securely. Apply brick and mortar until the halfway point is reached. Place more metal strap anchors on the halfway point brick, all the way around the home. Place another thick layer of mortar, and begin bricking the rest of the home.
Step 5
Use the metal or copper bristled brush to wipe any excess mortar from the brick. Strike each side with the jointer to secure it. Allow to dry for 24 to 48 hours. Reinstall the shutters on the home.
Tip
Install the cement and brick on a sunny day. Moisture in the air can increase drying times. Using multi-colored bricks allows for more style choices for other exterior remodeling in the future.
Warning
Wear proper protective clothing during installation. Use caution when bricking the high sides of the home, as ladders can be unstable.
---
Lissa Delisle began writing in 1997. She has been published in advertisements for Dillards and "The Tennessean." Her areas of expertise lie in graphics and Web design, marketing, social media, beauty and fashion. She is also a makeup artist. Delisle holds a Bachelor of Arts in graphic design from the International Academy of Design and Technology and certification in creative writing from Denver University.