Things You'll Need
Drill

Screwdriver

Wall anchors

Telephone mounting plate

Level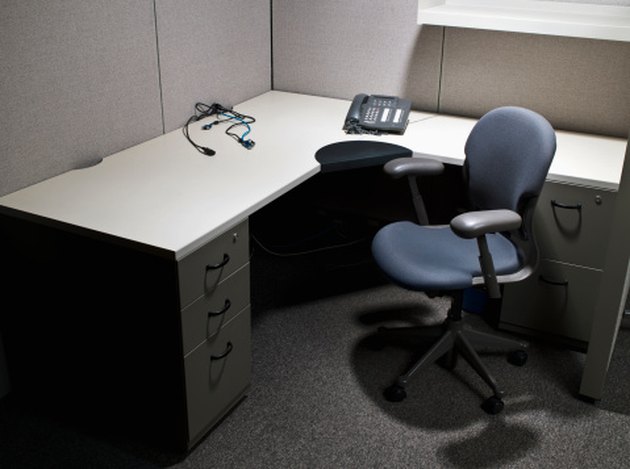 Most telephones are designed to sit on a table or be installed on the wall. Installing the telephone on the wall will provide you with more space on your desk or table, as well as making your desk appear less cluttered. To determine if your telephone can be mounted on the wall, turn it over, and then look for the two vertical holes on the back of the phone in which the mounts slide.
Step 1
Determine the location at which you would like to install the telephone wall mount. Often, kitchen telephone jacks are located in the middle or upper portion of the wall so that a telephone may be mounted there. If a telephone jack is present, remove the screws, and then install the mounting plate on top of the jack, or remove the jack and install the mounting plate according to the instructions included with the plate.
Step 2
Install a new plate in the location where you would like to mount the phone, if a telephone jack is not located in that spot. Follow the wall plate's manufacturer's instructions for the proper installation of the wall plate. In most cases, you can place the wall plate in the desired location, and then make sure the mount is level and mark the screw holes with a pencil. Drill the holes and insert the wall anchors in the wall. Next, place the mounting plate over the wall anchors and secure the plate to the wall using the screws included with the plate.
Step 3
Pull out the clip on the bottom of the earpiece holder on the base of the phone. Reverse the clip so that the clip overhangs the rim of the earpiece holder. This clip will hold the receiver in place when it is hanging on the wall, preventing it from falling.
Step 4
Snap the telephone wire into the routed wire-runs on the rear of the phone, should any exist.
Step 5
Align the two mounts on the mounting plate with the larger end of the two mounting holes on the rear of the phone. Insert the mounts in the mounting holes, and then slide the phone down so that the mounts are locked into the phone.
---
Andrew Todd has been writing since 2006. He has written for the Consumer Search website and the U.S. Attorney's Office for the Middle District of Florida. Todd has a Bachelor of Science in criminal justice from the University of Central Florida.