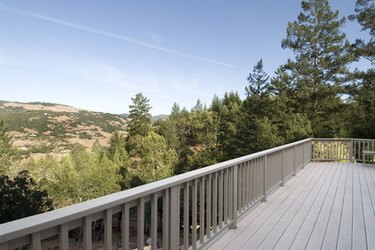 Adding a roof covering over a deck creates many living options. Entertaining outdoors becomes easier, plus the space can be used for an outdoor family room during good weather. A roof area creates a shelter against rain and wind, and it helps to protect furniture on the deck from deteriorating. In addition, it's easier to store lawn chairs and grilling supplies in storage units under a covered porch. By building the shed roof near the house, it's also possible to create a media cabinet for watching TV or playing music outside. It's also easier to use a laptop computer for getting office work done outdoors in a covered deck space.
Step 1
Measure the entire deck to define how much room the shed roof should cover. Look through deck design books and outdoor living magazines to see what other homeowners are building. Choose a design that is not overly complicated, requiring many types of angles cut, unless an expert carpenter will assist in the project.
Step 2
Purchase 2-by-6-inch pressure treated boards to construct the shed covering. Pre-cut the rafters and support columns with an electric circular saw. Install rafters on 16-inch centers, assembling the structure with 4-inch stainless-steel screws and an electric screwdriver. Attach the shed roof to the home's framework with anchor bolts. Keep in mind that the structure can collapse if attached to the house framing with screws only.
Step 3
Nail 1/2-inch plywood on the roof of the shed covering. Add tar paper and asphalt shingles. Stain or paint the exposed wood areas with exterior-grade stain or paint. Install gutters, downspouts and splashblocks to skirt rain away from the deck area. Place flexible hosing on the downspouts at the bottom level to move water away, if the downspouts are much higher than splashblocks placed at ground level.
Step 4
Run electrical wiring to the shed roof for light fixtures. Secure the wiring inside exterior-grade conduit to protect it from the elements. Consider adding ceiling fans to the deck, too, if electricity will be extended into the space.
Step 5
Add storage boxes made of leftover lumber materials and plywood to create seating under the roof cover. Countersink stainless steel screws into the structures to keep them from snagging clothing. Install heavy-duty hinges on the lids for easy lifting. Use the storage boxes for putting away grilling equipment or lawn games. Stain the boxes to match the rest of the deck area.
Tip
Install frost-proof spigots or faucets in the covered shed area, if plumbing can be extended from the house. Consider placing a small sink in the deck area under this roof, since a sink makes grilling cleanup and food preparation much easier.
Warning
Install support posts every five or six feet to hold up the roof's weight. Don't skimp on these column posts, since the weight of the roof could collapse and injure (or kill) someone. Build the structure to withstand strong winds that will likely impact it year round.
---
Judi Light Hopson is a national stress management expert and psychology issues writer. Her column on relationships, co-written with a nurse and a psychologist, is distributed by McClatchy Newspapers to over 300 major publications worldwide. Ms. Hopson has written for employee assistance programs that serve over 15% of America's Fortune 500 companies. links provided below.