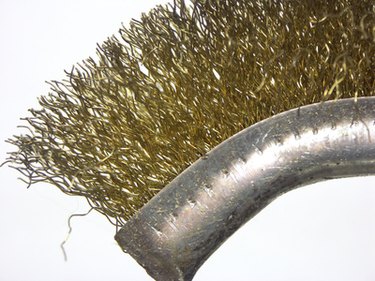 Steel wire brushes are a tool fabricators use to finish different types of metals. Brushes are used to remove flaking paint, rust, scratches, dirt and small imperfections. They are used on concrete, metal, stone and wood surfaces. Wire brush attachments are made for drills, grinders and other types of fabrication tools. They come in many different sizes, stiffness and wire types. Soft brushes are used to bring out the luster and polish in a surface, while stiff brushes are used for removing heavy debris.
Step 1
Don protective leather gloves, safety glasses and a dust mask before using a wire brush.
Step 2
Attach a steel brush to your drill, angle grinder or bench grinder. Follow the manufacturer's instructions for installing the steel brush attachment. If you don't have the instructional manual for your tool, download the manual from the tool manufacturer's website.
Step 3
Place the item you want to wire brush in a vice or clamps if you are using a drill or an angle grinder with a wire brush attachment to brush a small object. This way the object remains stable while you move the drill to brush it.
Step 4
Press the "start" or "on" button on your tool and move the brush against the item. Work on small surface areas. Start at a slow speed and gradually increase the speed of the wire brush rotation. Brushing works more effectively when you use high speed rotation.
Step 5
Move your item toward the brush if your tool is stationary and your item is small. Use as high a speed as is safe to brush the item.
---
Jennifer Moore began writing in 2006, specializing in Web content, blogs and forum postings. She is a graduate from the most prestigious university in Mexico, Universidad de Las Americas, with a B.A. in international relations, later obtaining a U.S. teacher's degree and an additional CompTIA A+ certification in computer technology. Moore has written for My Mexico Living, BoomersAbroad and various other websites.