Things You'll Need
Corn broom (optional)

Mop buckets with handle

White vinegar

Eucalyptus oil

Large plastic spoon or spatula

Mop made of natural fiber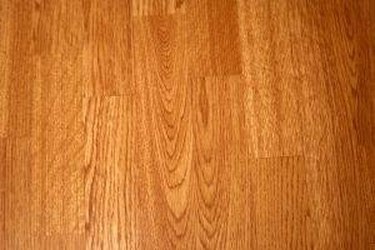 Eucalyptus oil makes a great wood floor cleaner. It disinfects, helps extract ground-in dirt, and leaves a pleasant scent behind. It can help remove years worth of dirt and grime with little effort, and is safer for the environment than many commercial cleaners. Try this easy method to clean wood floors, even unsealed wood floors, and you'll be left with a great smelling, spic-and-span surface that you can be proud to show off to friends.
Step 1
Sweep the wood floors thoroughly to remove any surface dirt and large debris using a corn broom, if possible. A corn broom is able to sweep out even the smallest particles of dirt, making it easier to thoroughly clean wood floors with eucalyptus oil.
Step 2
Pour approximately 2 gallons of hot water into a plastic mop bucket with handle. You will need the handle to carry the bucket around, especially if you are cleaning a large wood floor.
Step 3
Add ¼ cup white vinegar and 20 to 25 drops eucalyptus oil to the bucket. Stir with a large plastic spoon or spatula to combine the ingredients.
Step 4
Fill a separate plastic mop bucket with 2 gallons of hot water. This bucket will be used for rinsing out the mop, so you aren't mopping the wood floors with dirty water.
Step 5
Use a mop made of natural fibers to apply the eucalyptus oil mixture to the wood floor. Thoroughly saturate the entire floor by pushing the mop forward, and then pulling it back over the same section to extract dirt.
Step 6
Rinse the dirty mop thoroughly in the bucket of water, and then dip it into the bucket containing eucalyptus oil. Continue with this procedure until the entire wood floor has been cleaned, and then discard the water and eucalyptus oil mixture.
Tip
Any type of mop and broom you have on hand may be used to clean wood floors with eucalyptus oil. Natural fibers are recommended, but not necessary.
If the smell of eucalyptus oil is too strong for you, reduce the amount to 15 drops and add 10 drops lemon essential oil to mask the smell.
Warning
Do not discard the eucalyptus oil mixture outside near plants or gardens, as it could damage their roots. Instead, pour it down the sink or tub drain.
---
Willow Sidhe is a freelance writer living in the beautiful Hot Springs, AR. She is a certified aromatherapist with a background in herbalism. She has extensive experience gardening, with a specialty in indoor plants and herbs. Sidhe's work has been published on numerous Web sites, including Gardenguides.com.