How to Stain a Deck. Staining your deck will keep it looking good - it will restore its natural oils and protect it from ultraviolet rays and water damage. Here are a few steps to help protect your deck from extreme climates and improve its overall appearance.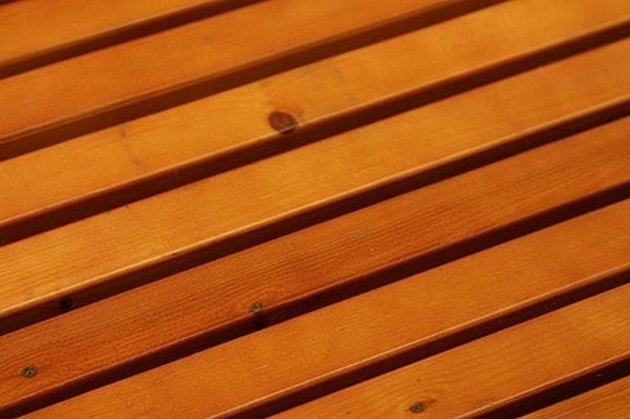 Step 1
Choose a wood stain in your desired color. Search your local home improvement store for different color selections or use an online color selector.
Step 2
Thoroughly clean the deck. Use deck cleaner (see Related Hunkers) or a pressure washer - which uses forcefully ejected water to clean surfaces - for this.
Step 3
Let the deck dry completely.
Step 4
Fill a small bucket or rolling pan with the stain.
Step 5
Immerse a brush or long-handled roller into the stain. Absorb only enough stain for a few strokes.
Step 6
Roll or brush stain deck. Make sure you apply the stain evenly.
Step 7
Wipe excess stain or dark spots with rags.
Step 8
Let stain set for 24 hours.