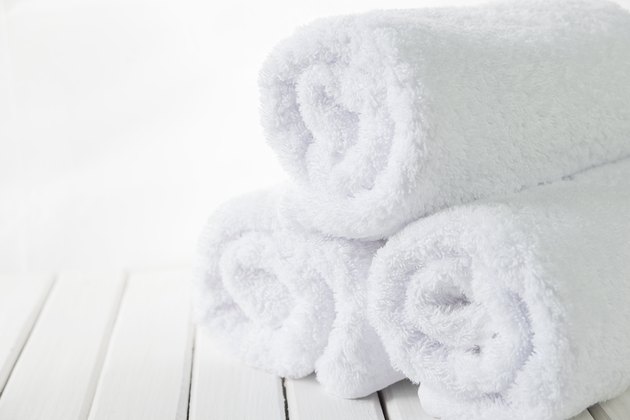 Where an unused or inconvenient shower stall seems like wasted space, its dimensions are ideal for a linen closet makeover. Whether the shower is ultra-narrow or as large as a traditional bathtub, reclaiming the niche gives you the advantage of ceiling-to-floor storage that doesn't clutter the walls or footpath the way a floor-standing shelf unit would.
Plumbing Goes First
After shutting off the water supply to the shower, you'll need a firm grip to twist off the shower head and a Phillips-head screwdriver to remove bolts in the water supply handles and floor drain cover. The remaining work might be best handled by a plumber. Water supply lines protrude from the shower walls, so they'll require either disassembly and capping, or the plumber might cut off and cap the pipe. The floor drain also requires a cap, as the P trap under the drain eventually dries out, letting sewer gases rise up into the room.
Removing the Old Shower
Demolition techniques vary depending on whether the stall has a door, and whether it is a single molded unit, a separate shower pan and walls, or tile. The door comes off first, if one exists. Most are on a track system that disassembles by removing screws.
With a molded stall where the floor and walls are a single unit or one with a separate shower pan and walls, pulling a utility knife around the perimeter cuts the caulk or silicone seal. Prying up the edges might allow you to pull out the unit or sections. If adhesive was used, the unit or pieces won't slide out. Cutting through the material using a reciprocating saw lets you pry and pull it out in sections.
For tile, a chisel and hammer or mallet loosens them from the walls and floor. Tile backer board underlayment needs a drill with a Phillip's driver bit to remove screws.
Finishing Exposed Studs and Joists
With the shower stall out of the way, you're left with exposed wall studs and floor joists. Drywall covers the studs, but you'll need 3/4-inch-thick plywood over the joists. A layer of backer board over the plywood lets you continue tile from the bathroom floor into the closet floor, but it's unnecessary if you'll use another flooring material.
Covering the studs and joists encloses the bare spots, but a seamless finish takes a bit more work. Drywall joint compound and seam tape joins the seams between old and new drywall, and a light sanding blends the repair. For a tile floor, use thinset mortar, tiles that match the bathroom floor, and grout. Consider reflooring the whole bathroom and closet if the main floor is sheet vinyl, as patching in a new piece can leave a prominent seam. If you can't blend the closet floor with the rest of the room and a whole new floor isn't an option, try something obviously different such as diagonal wood flooring or mosaic tiles in the small space.
Shelf Options
The linen closet is all about storage, so plan how you'll use the space before hanging shelves. If the lowest shelf sits at approximately hip or waist level, a clothes hamper tucks neatly underneath. Shelf options include 12-inch-wide wood or laminated shelf boards, vinyl-coated wire or bare metal shelving.
Shelf boards and laminated shelving can rest on L-shaped shelf brackets or cleats. Cleats are smaller boards mounted horizontally along the left and right sides and across the back wall of the closet. This creates a contiguous ledge that supports the side and back edges of each shelf. Brackets are simpler to install, but support less weight than cleats. Vinyl-coated wire and bare metal shelving needs a vertical metal track system mounted to the wall. The tracks let you reposition shelves higher or lower as needed.
Front Enclosure
A linen closet may have a door, but a decorative curtain makes a low-fuss alternative. A spring-tension curtain rod between the upper left and right sides of the opening holds a plain white or fancy sheet or a panel of decorative fabric.
Installing a door requires much more effort and reasonably sound carpentry skills. The first step is framing a rough door opening. This is similar to building a wall, but with a reinforced opening for the door. Bi-fold doors, which are two narrow, hinged doors that fold up as you open them, require a slider track mounted across the top and bottom of the opening. If you prefer a traditional hinged door, opt for a pre-hung style that slides in and fastens to the rough opening.
---

Lee Carroll
Carole Oldroyd, a writer based in East Tennessee, has authored numerous DIY home improvement, Human Resources, HR and Law articles. In addition to holding a degree in paralegal studies, she has more than 10 years of experience renovating newer homes and restoring historic property.