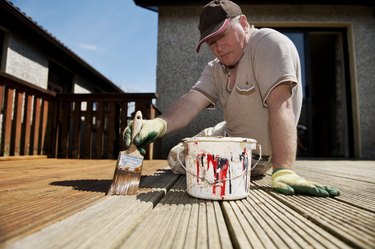 A recent addition to the composite decking market, vinyl decking comes in several styles. Manufactured from polyvinyl chloride -- the same white plastic that is extruded into plumbing pipes -- vinyl decking comes in planks and sheets. Manufacturers include an ultraviolet-blocking component to prevent fading, and they discourage painting vinyl decking. When the combination of sun, dirt and wear necessitates a complete color restoration, you can paint, but you have to use the right product.
Vinyl Decking Options
PVC decking planks look like any two-by-six decking planks. They are usually textured with a wood grain pattern and come in wood-tone and colors, as well as white. They often come with matching railing systems, and if the look appeals to you, you can also buy matching fencing. Tongue-and-groove PVC decking gives your deck the look and feel of a hardwood floor. Both types of vinyl decking boards usually come with hidden fasteners, so you don't need to nail or screw them to the frame. Sheet vinyl is primarily a waterproof covering for an existing deck. The application of this type of covering involves melding seams with heat, so installation is best handled by a pro.
Pros and Cons of Painting Vinyl
Vinyl decking manufacturers often market their products as low-maintenance or even maintenance-free, and they discourage painting it. Before considering a new coat of paint, you should check the manufacturer's warranty -- you may void it by painting. On the other hand, painting is the only way to change the color of your decking. Moreover, even though the color doesn't fade, PVC can develop a chalky surface coating after prolonged exposure to sun, snow and rain, and painting is a quick way to update the sheen. If you decide to paint, you need the proper paint to protect the decking.
Light Colors Are Safer
One of the problems inherent with painting vinyl is that a dark color absorbs sunlight, and the resultant heat can actually melt it. The paint you use should have a light reflective index of 55 percent or higher -- whites, yellows and light tans are usually safe. If you absolutely must have a darker color, you need a specially formulated paint that contains heat-reflective pigments. If you're repainting sheet vinyl, you should use a product specially formulated for that purpose. Check the manufacturer's website before painting PVC decking boards. Some recommend a specific product; if not, try a product formulated for vinyl siding. Be sure to test it first, because some types of PVC decking won't accept any paint at all.
Painting Procedure
Whether you're painting vinyl sheet decking or PVC planks, you need to prepare by cleaning and degreasing. Use a bleach-free detergent solution for this because bleach degrades vinyl. You should also avoid sanding if possible, especially machine sanding; some decking only has a PVC coating, and sanding can wear through. Once the vinyl is clean and dry, you can paint it with a brush and roller. Use the brush to paint the edges, then finish the bulk of the deck by rolling. You typically need two coats of paint to get full coverage and protection.
---
Chris Deziel is a contractor, builder and general fix-it pro who has been active in the construction trades for 40 years. He has degrees in science and humanities and years of teaching experience. An avid craftsman and musician, Deziel began writing on home improvement topics in 2010. He worked as an expert consultant with eHow Now and Pro Referral -- a Home Depot site. A DIYer by nature, Deziel regularly shares tips and tricks for a better home and garden at Hunker.com.