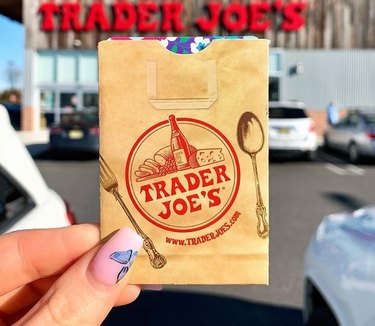 Long gone are the days of mediocre, boring salads. Trader Joe's is now offering rosemary croutons made of — wait for it — ​croissants​. Yes, you read that right.
In other words, each crouton is a delicious piece of buttery and flaky croissant. This is totally different than standard croutons, which are usually made of crusty loaf breads. Honestly, we're amazed croissant croutons aren't more common.
To top things off, the croutons aren't tough and hard like most store-bought versions. This is excellent news if you have sensitive teeth or trouble eating crunchy foods. "They are lightly crispy ... not your regular 'tooth-breaking' crouton," said one shopper on Instagram.
One bag of rosemary croissant croutons costs $3.99, according to @traderjoeslist on Instagram. Also, depending on your store, the product will be available in the "new items" section or on the shelves above the freezers.
How to serve Trader Joe's rosemary croissant croutons:
Who says croutons are just for salads? According to Trader Joe's, the rosemary croissant croutons work well in a range of tasty dishes.
Here are some serving suggestions from the brand, along with a few of our own:
Serve the croutons on top of tomato bisque or French onion soup
Crush the croutons and serve them on top of scalloped potatoes (or your favorite casserole)
Coat pork, chicken, or fish with crushed croutons
Stir the croutons into scrambled eggs
Sprinkle crushed croutons on top of stuffed tomatoes or peppers
Make stuffing with croutons
Use crushed croutons as breadcrumbs in other recipes, like burgers or meatloaf
If you're feeling adventurous, make a savory trail mix with the rosemary croutons. We bet they'd taste amazing with mixed nuts, dried cranberries, mini pretzels, and a dash of garlic powder.
You can also just eat them as snack, of course. Enjoy!