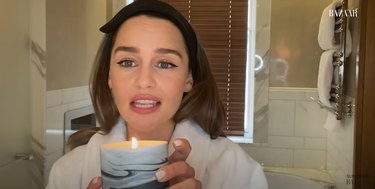 We all have bedtime routines, whether it's taking a soothing bath, reading a chapter or two of a book, or endlessly scrolling Twitter (okay, you probably ​shouldn't​ do that last one).
Before she gets into the nitty-gritty about her skincare process, her bath rituals, and her nightly stretches (hint: she takes a collapsible foam roller with her when she travels), Emilia says she always begins her routine with one simple step: lighting a candle.
But not just any candle — her favorite candle du jour (or de la nuit, as it were) is none other than Diptyque's 34 Le Redouté, a spicy floral scent housed in a chic marbled ceramic votive.
Emilia uses it"just to make [her] brain and body know that it is time to go to bed," adding that she's "feeling very calm because [she has her] beautiful candle going, which is just delicious."
The French fragrance house Diptyque has long been a favorite of celebrity clientele; just last year, we spotted Meghan Markle displaying a Tubéreuse candle in her home during an ​America's Got Talent​ segment.
If you're looking to give Emilia's favorite candle a go, well, you might be out of luck. Right now it's sold out online (perhaps all the better, given that it costs $87!). But you can put your email on the list to be notified when it's restocked. If you happen to live near a Diptyque boutique, you might be able to find one on the shelves.
The candle might be a bit of a splurge, but if it's good enough for Emilia, it's more than good enough for us!
---
Stefanie is a New York–based writer and editor. She has served on the editorial staffs of Architectural Digest, ARTnews, and Oyster.com, a TripAdvisor company, before setting out on her own as a freelancer. Her beats include architecture, design, art, travel, science, and history, and her words have appeared in Architectural Digest, Condé Nast Traveler, Popular Science, Mental Floss, Galerie, Jetsetter, and History.com, among others. In another life, she'd be a real estate broker since she loves searching for apartments and homes.