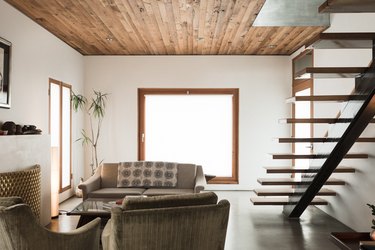 For prospective homeowners, this past year or so has been a totally different landscape. But even with restrictions in place, sellers and sites found creative ways to show off their properties. Prospective buyers responded positively to changes like virtual 3D tours, according to new findings by Zillow.
The real estate site reports that "the share of listings featuring a 3D virtual tour in April was 3 times higher than in 2019." With a focus on caution during the pandemic, these tools certainly came in handy.
In fact, IRL open houses for many listings decreased significantly starting in the spring of 2020, Zillow reports. Naturally, this was tied into the safety needs of the time — but the option of a virtual tour might have staying power, too, even after things get back to "normal." The open house isn't quite back to its usual popularity yet.
"Nationwide, the share of listings advertising an open house has risen from its pandemic-era low, but as of April remained more than 8 percentage points, or about 42%, lower than pre-pandemic, 2019 levels," Zillow reports.
Virtual 3D tours are a widespread trend, with Zillow stating that all 50 of the United States' largest metros saw a growth in listings offering the option. Data from the site shows that the inclusion of a Zillow 3D Home Tour (from March 2020 to February 2021) actually resulted in an increase of saves and viewings.
Here's to making the most of our virtual tools.