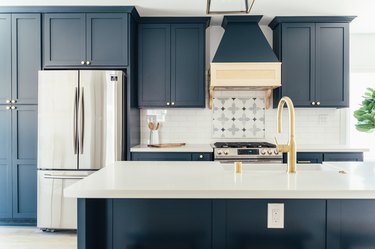 The pandemic has affected everything from our grocery shopping habits to our moving decisions. These changes also include what our spaces look like, in both small and large ways. Take, for example, the kitchen.
Luxury kitchen appliance brand JennAir took a closer look at how our cook spaces are evolving in a new trend report. The survey gleaned insights from 500 luxury interior designers and architects across the U.S. The results prove that plenty of people have cooking on the brain.
For starters, 89% of designers and architects said that "customizing a kitchen design plan has become more important to clients" during the past one to two years. This makes sense since we've been spending so much time creating our own meals at home, and likely re-imagining what we need from our cook space.
In addition, 60% of the experts surveyed report that "client interest increased for professional-style kitchen appliances since the COVID-19 outbreak." And 43% noticed that the people they're working with want "more advanced technology features in kitchen build outs than prior to the pandemic." These are likely restaurant-level and smart gadgets that go beyond your usual kitchen staples.
It's all about feeling like a professional chef at home. With these changes, we expect to see plenty of new features in appliances, making it that much more easy to whip up something delicious at home.