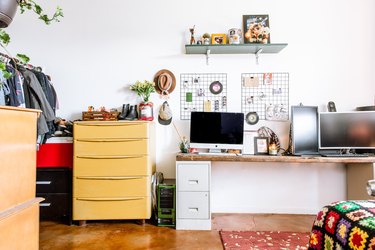 Even as some schools and offices reopen, the shift to remote work isn't going to disappear overnight. In fact, the ability to WFH will likely affect how people make decisions regarding their home buying.
Take, for instance, some recent findings by Zillow in the area of remote work and real estate inventory.
"An overwhelming majority (95%) of more than 100 economists and real estate experts surveyed by Zillow as part of the Q1 2021 Zillow Home Price Expectations (ZHPE) survey said an increased preference to work remotely at least part-time is a permanent shift," Zillow reports.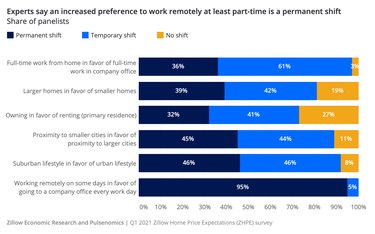 In addition, out of the experts tapped for the survey, 42% say there will be a temporary shift in preferences for larger homes (rather than smaller ones). And 39% predict this will be a permanent shift. As for what's out there, "more than two-thirds (69%) of panelists said they expect inventory will begin to grow in the second half of this year or the first half of 2022," according to Zillow.
And we've noticed plenty of places across the U.S. are willing to help people relocate if they work remotely. Don't be surprised if you see more friends or acquaintances making a big move in the near future.
Check out more info on the survey here.