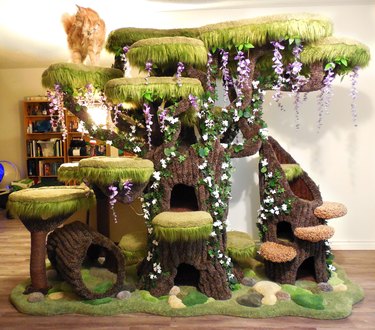 A good cat tree will offer your feline a space to nap or watch the birds outside — not to mention some real estate to scratch so they don't ruin your furniture.
But we just discovered a design that takes things up a notch — or two. Hollywood Kitty Company has created an Enchanted Forest Kitty Sanctuary that is straight out of a fairy tale. And people on Twitter are freaking out about it.
According to the website, the building of every item is "slightly different with the arrangement of the tree canopy limbs because they are made from real tree limbs from nature." The tree can accommodate up to 20 cats. Yes, you read that right.
We're pretty sure any feline would go paw-sitively wild over the many spots to hide, nap, and scratch. That includes a "tree stump condo" and "a log tunnel." The whole thing comes in at a whopping 500 pounds. And, of course, it's not cheap — the cat kingdom starts at $899. Right now, the current wait time is a little over a year.
File this under seriously creative cat furniture design.