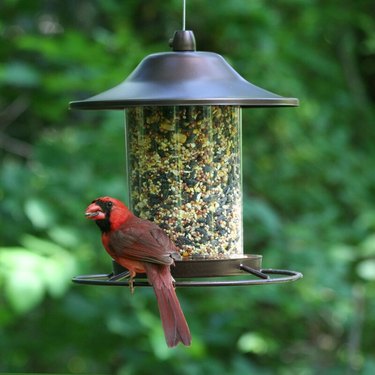 Bird feeders are a lovely invention. They allow you to birdwatch while providing local birds with a food source. It's a win-win, right? However, recent news wants you to think twice about your bird feeder — especially when it comes to how you care for it.
According to NPR, there has been a salmonella poisoning outbreak killing thousands of finches across the U.S. In particular, the California Department of Fish and Wildlife has been receiving such reports from concerned residents.
Wesley Hochachka, a senior research associate at the Cornell Lab of Ornithology, tells NPR that birds can contract salmonella poisoning from tainted food or water that has been touched by other infected birds. When birds become infected, you'll be able to tell because they puff out and stop responding to what's going on around them.
Scientist Krysta Rogers reports that this specific outbreak might be tied to the pandemic. Since people have been spending more time at home, many have purchased bird feeders so they can birdwatch. This increase in feeders may have, unfortunately, contributed to the spread of salmonella poisoning amongst birds.
Fortunately, something can be done. Hochachka recommends that people remove their bird feeders for several days and clean them with bleach. This will help to get rid of any tainted particles and feces — that way you can go back to birdwatching with peace of mind.
---
Anna is a Los Angeles-based writer and editor who covers lifestyle and design content for Hunker. She's written for Apartment Therapy, the L.A. Times, Forge, and more. She previously worked as the lifestyle editor at HelloGiggles and deputy editor at So Yummy. Her email: anna.gragert@hunker.com