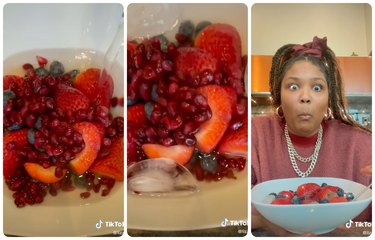 If you've been looking for a new breakfast recipe to try, we have great news. Over on TikTok, a dish called "nature's cereal" is trending and yes, it's exactly what it sounds like: cereal ... minus the cereal.
Developed by user @natures_food, a self-described student of nature, nature's cereal features pomegranate seeds, blueberries, and blackberries drenched in coconut water. Essentially, the fruits are the cereal and the coconut water is the milk.
According to @natures_food, he eats nature's cereal first thing in the morning to help with digestion. It also gives him a burst of energy — so much so that he feels like he could run a marathon.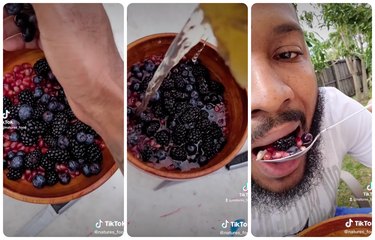 Another fan of this recipe is singer and songwriter Lizzo, who posted her own version of nature's cereal on TikTok. The only difference is that hers includes strawberries instead of blackberries and she also adds ice. "It's actually really good, y'all," writes Lizzo in the caption of her video, which has almost one million views.
Now, the only question is: Would you exchange your box of cereal for nature's cereal?