As we work our way to a more sustainable future, designers are learning to incorporate green energy technologies into beautiful products for everyday use. Case in point: Sunne, a solar-powered light that avoids the common utilitarianism found in most of its competitors.
Created by Dutch designer Marjan van Aubel and her studio, Sunne harvests solar energy by day and lights up at night — and it does so in style. The oblong light fixture, which features an anodized aluminum frame, is designed to be hung in a window, using photovoltaic cells on its solar side to power its integrated battery.jame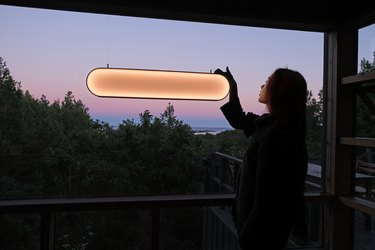 "I want to bring solar closer to the people through solar design; making self-powering products that are beautiful, well designed and fit seamlessly within the home," van Aubel said in a release.
When the sun goes down, you can turn on Sunne with a simple tap to the top of the frame, or use the connected app, which can control the light's settings. The app also lets you see battery level and how much energy the Sunne is storing.
It has three displays: Sunne Rise, Sunne Light, and Sunne Set, which simulate sunrise, daylight, and sunset, respectively. The warm color patterns recall a James Turrell installation, with warm gradients that provide soft ambient light.
Sunne is currently in its prototyping phase, with a Kickstarter campaign dedicated to raising funds to develop the project further. At the time of publication, Sunne has already surpassed its goal by nearly $20,000, but you can still back the project and even place an early order for your very own light.