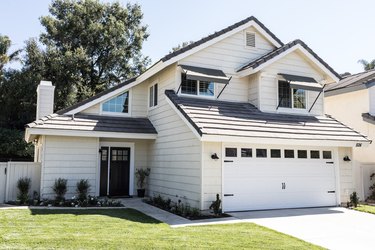 Zillow just made an announcement that's simultaneously changing the real estate game and making us do a double-take. To prove just how much it believes in Zestimate, the company's free home valuation tool, Zillow will be making initial cash offers on eligible homes in more than 20 cities.
In other words, Zillow will now buy your home so you don't have to deal with the listing, in-person showings, and other real estate drama.
"This exciting advancement demonstrates the confidence we have in the Zestimate and the lengths we are willing to go to make selling your home truly seamless and easy," Jeremy Wacksman, Zillow's chief operating officer, said in a press release. "Presenting the Zestimate as a cash offer to qualifying homes up front will save time, reduce friction, and provide greater transparency — getting us closer to our vision of helping customers transact with the click of a button."
The new feature is known as Zillow Offers and in addition to offering consumers price certainty through Zestimate — using public records, listing service and brokerage feeds, and artificial intelligence — it will also allow them to select a closing date. Users will even be able to use the company's escrow, mortgage, and title services via Zillow Home Loans and Zillow Closing Services.
Here's how it works: If you have a qualifying home, you will see an initial cash offer displayed in your property details on Zillow. As of right now, this feature is available in cities such as Phoenix, Miami, Tampa, Portland, Nashville, Los Angeles, Houston, and Las Vegas.
For more information, you can visit the Zillow Offers page here.