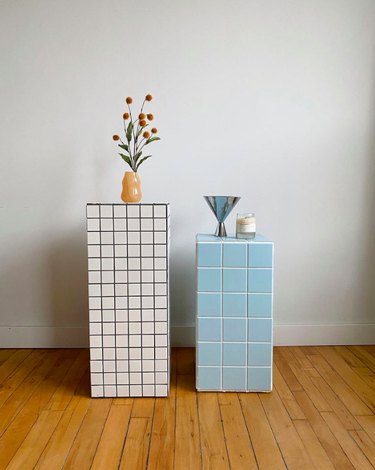 Another day, another chance to bookmark a DIY project we want to try. And this one's quite versa​tile​.
If you've noticed more furniture pieces being transformed with tiles, you're not alone. Turns out that gluing tiles around a simple piece of furniture can totally revamp it. But the trendy DIY actually has roots in '70 design.
The Quaderna dining table was designed by Superstudio, an Italian design collective "that advocated for a simpler lifestyle less reliant on technology and man-made objects," according to Pamono. The furniture piece was created for the manufacturer Zanotta, which has worked with the likes of Memphis Design icon Ettore Sottsass.
Here are some of the ways creative people on Instagram are using the tiled furniture look in their spaces.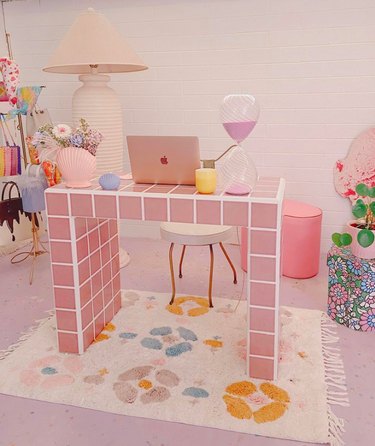 This DIY desk project by Samantha Klein is pretty in pink and we are all about it. "The good and bad news is that the hardest part is before you even start: doing math to figure out how many tiles you need or how big you want your desk to be to ensure you don't have to cut any tiles," Klein explains in a process video. Watching it being made is so satisfying, TBH.
This multi-color side table made by Sové Home only cost around $7 to bring to life. A thrift store find never looked so good.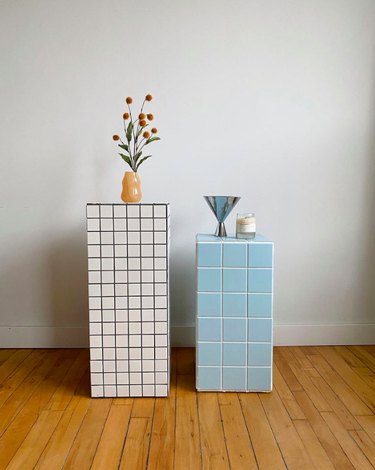 These pieces were originally vintage wooden tables; they would look great as side tables in a living room or even just statement pieces for an empty corner that needs some love.
LA-based shop Willow makes a number of chic tiled pieces, like this deep green bench. We love how it looks when paired with lush greenery.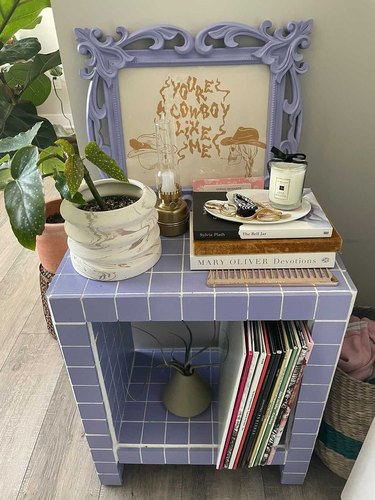 Chic meets functional. This purple-hued tiled furniture piece DIY-ed by Gladys Q does double duty as a record player organizer and side table. Bonus points if you can find framed artwork to match.