The nomad lifestyle was on the rise well before the pandemic, but now that many of us are working remotely, interest has skyrocketed. Of course, going off the grid for months on end really isn't feasible. But companies are wisening and have begun rolling out products specifically designed for remote work on the road.
"In the spring and summer months after the onset of the pandemic in the U.S., Airstream began to see an increase in demand for travel trailers as consumers still wanted to get outdoors and travel the country while avoiding large crowds at airports and train stations," an Airstream spokesperson tells Hunker. "Consumers found that Airstream travel trailers enabled them to play, work, learn, and live from anywhere."
While solo travelers or couples working from the road might be able to set up their mobile office on a table inside a traditional Airstream trailer, the Flying Cloud 30FB Office is beneficial to people who need a little more privacy while working, like parents traveling with young children. And that's a demographic that's on the rise.
"Typically, Airstream customers are couples and singles, but this year there were more families than ever before," says the Airstream spokesperson. The best part about the office is that it's multi-use — it converts into a small sleeping area perfect for a child.
While incredibly practical for nomads, Airstreams can be a little pricey; the Flying Cloud 30FB Office starts at $107,500. But there are more affordable options out there.
Nissan, for instance, has just released a new idea called the Office Pod Concept, which converts its popular NV350 caravan into a mobile office complete with Herman Miller furniture. It's all about indoor-outdoor living, as the pod can extend out through the van's back doors — and there's a roof deck with a lounger. Working in nature? Yes, please.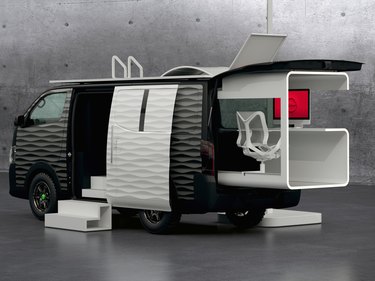 As for pricing, the van itself, sans the office module, costs anywhere from $22,000 to $38,000. Not a bad price to pay for a car-office combo! That said, there's no room for sleeping with such a car, so you'd need to be ready to pitch a tent in the great outdoors or book a hotel room for the night.
There's a bit of bad news, though — Nissan doesn't have any current plans to put this specific concept into production and sell it on the market. But we hope the Office Pod Concept will inspire more automotive companies to investigate how modular architecture can be used to create office space on-the-go.
We can't wait to see what other ideas might be next.
---
Stefanie is a New York–based writer and editor. She has served on the editorial staffs of Architectural Digest, ARTnews, and Oyster.com, a TripAdvisor company, before setting out on her own as a freelancer. Her beats include architecture, design, art, travel, science, and history, and her words have appeared in Architectural Digest, Condé Nast Traveler, Popular Science, Mental Floss, Galerie, Jetsetter, and History.com, among others. In another life, she'd be a real estate broker since she loves searching for apartments and homes.
View Work