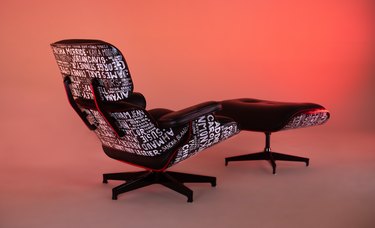 Ford's re-envisioned Eames Lounge Chair and Ottoman (ELO) features the handwritten names of Black people — George Floyd, Breonna Taylor, Elijah McClain, and many more — who have lost their lives to police violence.
"A large amount of time went into researching the names I added to the chair. I wanted to go beyond the names and stories that received media attention to share the lesser-known stories," Ford tells Hunker. "This included talking to my in-laws about my brother-in-law who was killed as a 10th-grader by Detroit police."
He added that revisiting hashtags like #joggingwhileblack, #drivingwhileblack, #sleepingwhileblack, and #learningwhileblack was a deeply emotional process.
The seeds for this project were planted in the summer of 2020, when the city of Madison, Wisconsin, commissioned Ford to create a mural in solidarity with the protests against the injustices faced by Black people. Featuring 526 white strikes — representing the 526 seconds Officer Derek Chavin had his knee on George Floyd's neck — on a Black body, Ford's mural was titled "526 Missed Opportunities." Unfortunately, it was defaced.
Upon hearing about this — and Ford's work with youth through The Hip Hop Architecture Camp — Herman Miller and its distributor, Interior Investments, reached out.
"When I spoke with the reps from Interior Investments and Herman Miller, they asked about what they can do to help," Ford explains. "I immediately went to the story of Ray and Charles Eames, who mentioned their design approach as one which is creating 'a special refuge from the strains of modern living.' I asked a simple question: How can we bring Ray and Charles Eames's design philosophy forward and provide a place of refuge for Black people today?"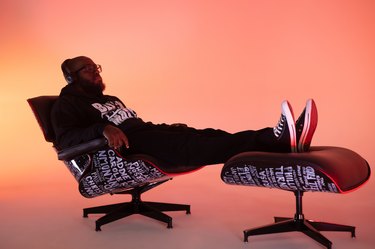 What resulted is the Herman Miller x Mike Ford remixed ELO and the #ConversationsForChange series. For the latter, from Jan 18th through February 2021, Ford's chair will travel across the U.S. so that activists, artists, designers, and emcees can sit in the chair to have Instagram Live conversations with Ford about social justice, racial inequality, and hope.
During the series, people will also be able to donate for a chance to own the thought-provoking chair. The profits will fund The Hip Hop Architecture Camp and Boys & Girls Clubs of Dane County, Wisconsin. The two organizations will also create a grant to aid nonprofit groups around the country that are working to support Black youth.
"This piece will allow design professionals to see how we can use our platforms and skills to bring attention to injustices faced by communities of color," Ford said. "Moving beyond raising awareness and attention, I hope viewers will take action and financially support organizations that have boots on the ground and are invested in creating safe spaces for Black youth around the country."
You can follow along with the #ConversationsForChange series on both the @TheHipHopArchitect and @HermanMiller Instagram accounts. You can also donate to support this project and own the chair here.