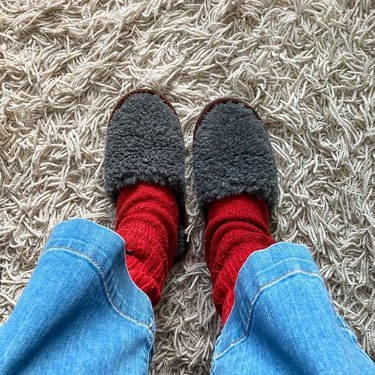 IKEA is great for many things: affordable modern furniture, unique product releases, and yes, even apparel. Now, thanks to the $5 cozy IKEA slippers we just found, you can add inexpensive at-home loungewear to that list.
The new Fegen Slippers are made of a durable wool and come in gray and white. All for only $4.99! Plus, reviewers are raving.
"What great slippers. They are soft and so comfortable," wrote user Janette. "Not only do I have a pair, but I bought four more as parts of gifts and everyone is getting a pair as their birthday comes. Excellent price and just soft, soft, soft. Nothing better for less than $10 a pair."
According to both the product description and reviewers, the only downside is that they can be slippery on smooth floors (since the soles are made of natural fibers). So if your entire home has hardwood floors, these may not be the best option. Instead, you might want to go with IKEA's gray Tåsjön Slippers ($2.99), which have a more rugged sole.
Here's to staying cozy at home in 2021!