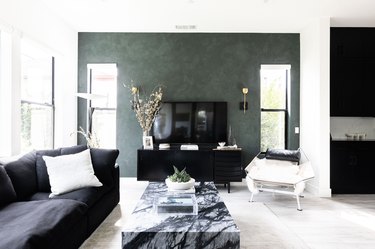 'Tis the season for 2021 trend predictions! And many design companies tap into their own experts' minds for their forecasts. Luxury marketplace 1stDibs surveyed more than 600 designers to find out what's going to be in next year — and what's going to be out.
"We're spending so much more time thinking about the spaces we love — and would love to update — and also about how design helps us meet the needs of everyday life," Anthony Barzilay Freund, Editorial Director and Director of Fine Art for 1stDibs, said in a statement. "The designer survey provides us with insight into interior trends that represent our shifting decorative preferences and our new attitudes toward pursuing work and leisure activities at home."
Of all the trends named in the results (you can see the full list here), we're most fascinated with the color predictions.
In terms of what's going to be popular in 2021, designers are all for 1970s vibes, naming bold jewel tones and warm earth tones as the biggest colors of the upcoming year. Emerald was the most popular color, receiving 24% of the votes, followed by navy blue at 23%, then burnt orange, mustard, and white at 22% each.
"If I had to pick a favorite decade, the 1970s might be it," designer Angie Hranowsky said in a statement. "From the fashion, to the earthy color palettes, to the sense of freedom and individuality, I have always found inspiration in this bohemian decade. But it seems to be having a renaissance."
The colors that will fade away in 2021 are firetruck red (1% of the votes), millennial pink (4%), pastel yellow (5%), tangerine (6%), and violet (6%). That said, now that Pantone has selected Illuminating Yellow as one of its two colors of the year, it might be interesting to see if the hue makes a comeback.
Read more of the designers' predictions here.