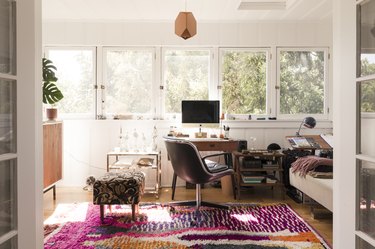 Curious about what 2021 will bring us? We are, too. While we're sure there might be some curveballs headed our way, Yelp is providing some insight into what we might expect in terms of home decor.
"We're spending more time at home than ever before, myself included, which has inspired so many of us to update our homes to reflect this cultural shift and create a personal sanctuary that feels calm and cozy," Calderone said in a statement.
Check out five of Yelp's predictions below, and find the full report with ten trends here.
Outdoor Design & Hardscaping
With searches and review mentions for backyard remodels up 864% from 2019 to 2020, it's safe to say there's a big interest in fixing up outdoor space. "We expect pool installation (up 374%), decks and patios (up 272%), gazebo and pergolas (up 111%), and firepits (up 97%) to trend in 2021 as part of the outdoor overhauls," Yelp says in its report.
Designing for Organization
In 2021, Yelp predicts we'll all be Marie Kondo-ing our homes again. "With so much uncertainty in the world outside, it's no surprise that many of us have chosen to focus on the world we can control: our homes," Calderone said in the report. "Getting organized is my secret weapon for relieving stress."
Given the rise in remote working during the pandemic, it's no surprise that home offices have already become the most important room in a house. According to the Yelp report, "[i]n 2021, many people will be taking their home offices a step further than simply having a proper desk and chair, and will be painting their spaces and hiring professionals like interior designers to create areas where they can join virtual events, conferences and meetings — and feel confident about their Zoom lighting, and a background that reflects their personal style."
Since going out to eat at restaurants isn't really on the table (pun intended), we're all spending a lot more time in our kitchens. Yelp reports that searches and review mentions for kitchen remodels are up 84% in 2020 as compared to 2019, indicating that this desire to refresh and update the heart of the home will continue into 2021.
Indoor/Outdoor Living Spaces
"As many have shifted to hosting intimate gatherings at home, in lieu of pre-pandemic nightlife and social activities, people will be looking to create indoor/outdoor spaces where they can gather with small groups of family and friends," the report states. This year, Yelp saw an 85% rise in searches and review mentions for "outdoor kitchens" as compared to last year.