A New Jersey mansion is currently going viral for a ... very specific reason. On the outside, the 1 Rivers Edge Dr property looks like your average four bedroom, five bathroom mansion made of brick and stone, but on the inside ...
... it's Christmas! Everywhere! The 5,420-square-foot mansion is literally covered in Christmas decor. As Twitter user @gh0ulface put it, "This is where Santa Claus lives during the off-season." Honestly, we wouldn't be surprised if this was, in fact, the North Pole.
In addition to it being Christmas in the foyer, immediately when you enter the home, it's also Christmas in the office.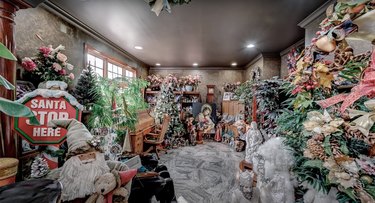 It's Christmas in the dining room.
It's Christmas in the sitting room.
It's even Christmas out by the pool, where there is a permanent sculpture of the Nativity scene in the background.
As for the gym and sauna room, it's not just Christmas ... it's also Disney!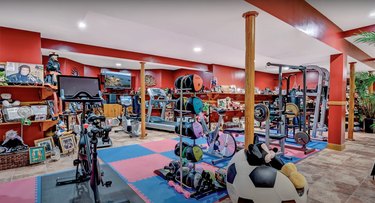 There is even, casually, a closet that is completely dedicated to golfing gear (clubs, shoes, bags, hats, and everything else you could possibly need for a year out on the course).
If you love Christmas, Disney, and golf just as much as this New Jersey family, this entire house can be all yours for $2,199,999, according to the listing on Zillow.
Just think — you'll never have to worry about decorating for the holidays ever, ever again. Also, you will never be without a spare golf club!