While many, many things tanked in 2020, the home industry was one of the year's few successes. Given that we all started spending ​a lot​ more time at home, many people started paying closer attention to decorating, opting to refresh rooms to boost their mood or to adapt to the new normal, like working from home.
Interior design website Modsy recently looked at "internal data and surveyed thousands of people in our design community" for its 2021 Style Report. As we move into the new year, the site has made some predictions of what trends we're going to see the most. Check them out below.
Rise of Traditional Comfort
It's all about getting comfy at home but keeping things practical. That can translate into anything from slipcovered sofas to old-school patterns like plaid.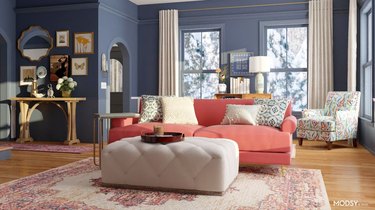 Forget midcentury modern — it's all about maximalism these days, which has undergone a branding change to "grandmillennial style." Think: antiques, florals, bright colors, ruffles, crochet, patterned wallpaper, and so on and so forth.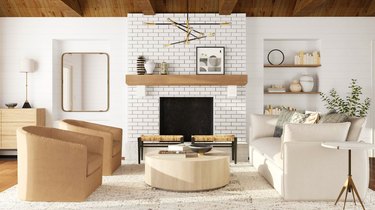 Scandi-modern and modern farmhouse are here to stay with light wood furniture, whether that's a natural wood such as birch or ash, or a whitewashed one.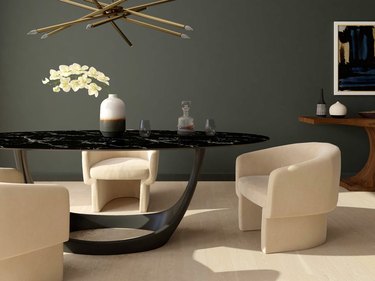 Break out the shoulder pads — the '80s are back. In interior design terms, that means high-shine finishes (brass, lacquer, glass), luxe materials like velvet, and decor pieces with voluminous, sculptural forms.
For those who aren't big into the in-your-face look of grandmillennial style or '80s revival, don't worry: natural materials will still be trending next year. Neutrals + textures? Sign us up.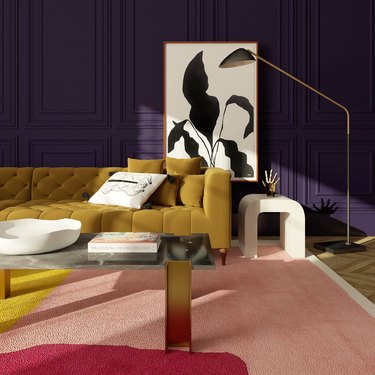 No one wants to live in a white-walled box anymore. Now's the time to take risks — paint your walls an adventurous hue inspired by your travels abroad during the pre-pandemic days, or maybe your favorite Insta-worthy local restaurant.