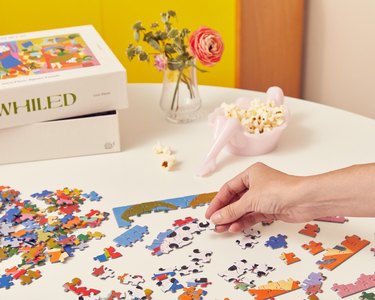 2020 has been the year of finding new ways to stay in and stay calm. That's why we're especially excited about Whiled, a newly launched brand devoted to downtime. Alisha Ramos, founder of Girls' Night In — a nationwide media brand and community that started as a newsletter in 2017 — is also behind the creation of Whiled.
"Whiled was founded with a simple mission in mind: To help the world slow down and reclaim downtime," Ramos tells Hunker. "Whiled is a sister brand of Girls' Night In that makes thoughtfully designed products that encourage moments for leisure, connection, and play, freeing you from distractions and 'musts.'"
Whiled's first product launch is a series of jigsaw puzzles featuring the work of artists Lan Truong, Tess Smith-Roberts, B.D. Graft, and Ana Leovy. Altogether, the artists' work forms a colorful collection made for meditative moments.
"With our puzzles, the right speed is a snail's pace," says Ramos. "An hour (or four) of uninterrupted peace with a thousand pieces, and nothing else."
As for Whiled's next release, we received a hint that it will still be in the home goods arena. For now, check out the first launch below.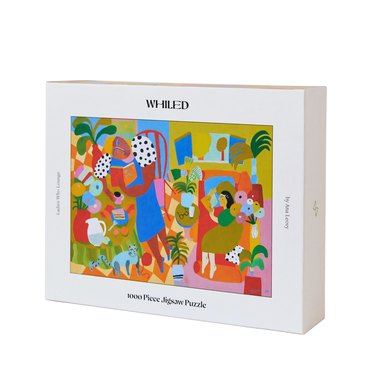 "In this stunning tableau, our ladies take up their own space and even their own dimensions," reads the puzzle's description.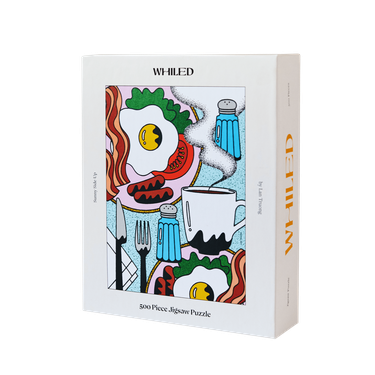 This puzzle celebrates the morning ritual that is breakfast.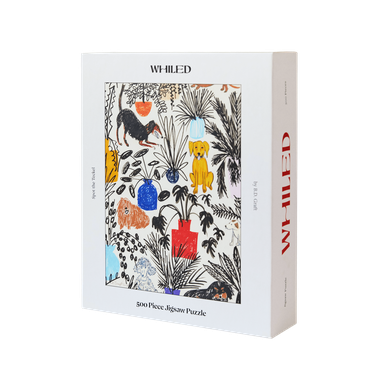 Featuring a "teckel" (aka dachshund), this puzzle is perfect for the person who loves being surrounded by pets and plants.
This puzzle was inspired by the work of children's book author Richard Scarry, whose illustrations are full of life and energy.