IKEA's 2021 catalog has arrived, which means our brains are buzzing with home decor inspiration. Though this catalog marks IKEA's 70th birthday, the company is anything but behind the times. In fact, we've already bookmarked our favorite IKEA 2021 catalog trends, which we're sharing with you below.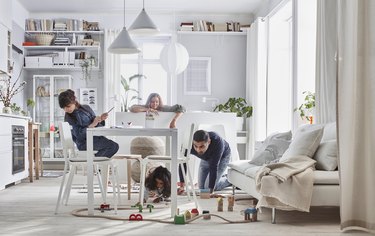 We love how a white color scheme can make a space feel bright and airy. Turns out, so does IKEA. In the 2021 catalog, the company showcases plenty of white pieces that are bound to make your space feel refreshed for the new year.
Here are a few milky-white selections: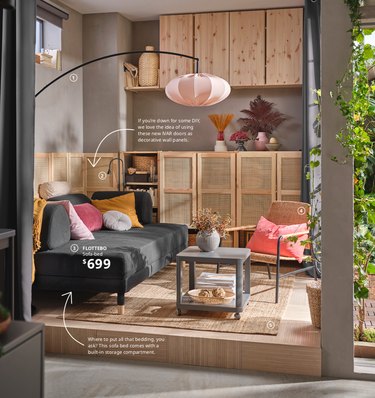 Within the IKEA 2021 catalog lies our new favorite decor hack. "If you're down for some DIY, we love the idea of using these new IVAR doors as decorative wall panels," the brand writes, making us immediately want to add texture to our walls.
For breaking up any blank walls:
IKEA is loving natural materials and textures like bamboo, dark woods, ramie (a vegetable fiber), and jute (a tropical plant fiber). The retailer also offers this tip for making linen curtains look rustic and crinkled: wash, tumble dry, and hang without ironing or steaming.
These pieces will help you achieve the moody natural look:
4. Cozy Decor for Better Sleep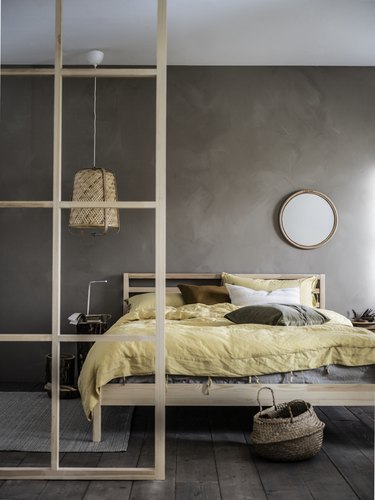 If there's one thing we've learned in 2020, it's that keeping a sleep schedule is essential (even if you are working from home). Fortunately, IKEA has the same idea.
The following products are meant to help you get all the shut-eye you need: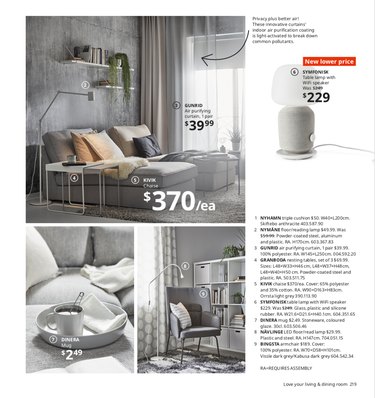 2021 is all about making your space a relaxing haven and based on what we've seen in IKEA's catalog, a light, soothing gray color is the key. IKEA adds, "It's the little things – an extra cushion, the warm glow of a lamp, or a cup of your favorite tea – that can make your living room feel like the coziest spot in the world."
Perfect examples of that comfy gray color:
To see the rest of the catalog as you dream up your 2021 interiors, click here.