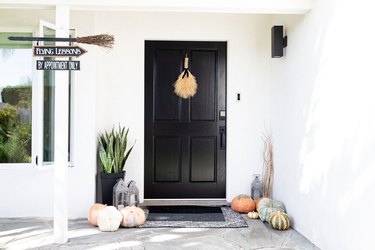 Everyone knows Halloween's colors are black and orange, but this year, there's a new hue in town. As the spooky holiday approaches, you might start seeing purple pumpkins appearing on people's front steps — and they're not just a stylistic choice.
The hashtag #operationsavehalloween is sweeping across social media, and it's calling people to action to continue the tradition of trick-or-treating this year. According to Readers Digest, "placing a purple pumpkin out on your porch, in your window, or on your lawn signifies a safe location for trick-or-treating." It means you are "open for business," so to speak, and that you're taking safety precautions to prevent the spread of COVID-19. (Purple pumpkins also symbolize epilepsy awareness.)
But the Centers for Disease Control (CDC) doesn't encourage the usual festivities this year. "Many traditional Halloween activities can be high-risk for spreading viruses," the CDC states on its website. "If you may have COVID-19 or you may have been exposed to someone with COVID-19, you should not participate in in-person Halloween festivities and should not give out candy to trick-or-treaters."
With that warning in mind, many people have decided not to give out candy to trick-or-treaters or let their kids participate in the festivities this year — which is a pretty sound decision in our book. This dad even created a candy chute.
The CDC says moderate risk activities include "one-way trick-or-treating where individually wrapped goodie bags are lined up for families to grab and go while continuing to social distance (such as at the end of a driveway or at the edge of a yard)." But you should remember to wash your hands while prepping them (and after).
Low-risk ideas include an indoor "scavenger hunt-style trick-or-treat search" for the family at home or creating "lists of Halloween-themed things to look for" while kiddos walk outdoors "from house to house admiring Halloween decorations at a distance."