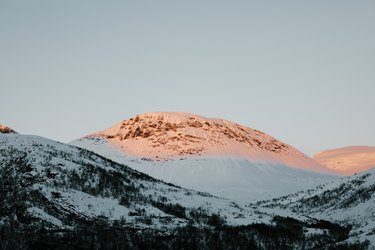 This fall, there's a hashtag that's been getting a lot of attention on Twitter, Instagram, and Facebook. No, it's not #picoftheday or #tbt. It's #NPSColorForecasting, a hashtag that the National Park Service launched. Basically, they take gorgeous nature scenes spotted throughout national parks — Yellowstone, Badlands, and Glacier, to name a few — and match them up with an exact color palette pulled from the landscape.
And the timing couldn't be better. With all of the chaos and stress going on this year, more and more people are turning to nature-inspired hues for their homes. Plus, color forecasting from top paint brands has been pointing to all-things-outdoors (take Valspar's 2021 Colors of the Year, for example). It looks like the National Park Service might be onto something. Soothing vibes, here we come.
For example, crystal-clear Lake McDonald in Glacier National Park serves as a calming pastel palette marked by pink, green, blue, and maroon.
The Grand Canyon couldn't be a better place to extract sunset-inspired shades that will instantly warm up any space. The salmon, yellow, and chalky red represent those sun-dotted rock formations while blue and slate gray symbolize the sky.
In the Badlands, a vibrant sunset juxtaposes with the moody hues of a snow-covered mountain scene.
A family of deer walking in an open prairie in the midst of Yellowstone National Park inspires the ideal neutral color scheme. These shades would instantly transport anyone to a state of calm, even in the most chaotic living room.