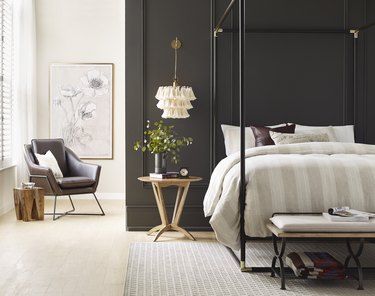 It's that time of year again, when paint companies unveil and dazzle us with their Color of the Year selections. Now, we have Sherwin-Williams's pick for 2021: Urbane Bronze, a warm bronze that's rooted in nature and meant to calm the mind.
"Urbane Bronze is a comforting color, drawing from nature for a feeling of relaxation and serenity," Sue Wadden, director of color marketing at Sherwin-Williams, said in a press release. "There's also reassurance in its sentimentality, with nostalgic ties to the design of the '70s and '90s, but with gray undertones that give it a distinctly modern twist."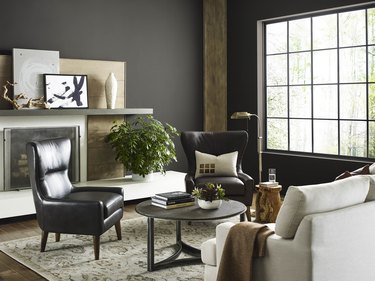 Unlike their 2020 Color of the Year — Naval, a bold navy — Urbane Bronze is more understated. It adds, according to Sherwin-Williams, "an anchoring quality that conveys a sense of comfort and sanctuary in bedrooms, living rooms, and dens, or calm concentration in home offices." Perfect for a time when we're staying and working from home more than ever before.
Wadden adds that Urbane Bronze can be complemented with mixed metals and natural materials like woven textiles, wood finishes, and stone accents. Since the paint color is also inspired by nature, it would work well with indoor greenery.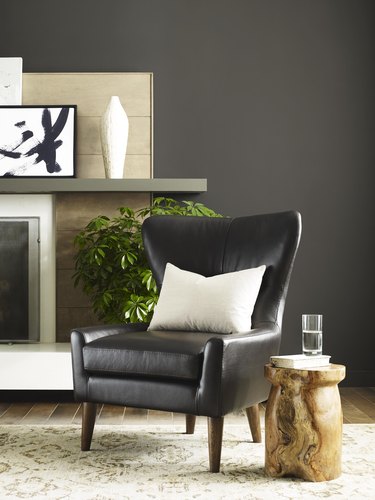 If you're interested in checking out Sherwin-Williams's color of the year, you can use their ColorSnap® Visualizer app and order a free color chip here. You can order Urbane Bronze online for pick-up at your local Sherwin-Williams store, which can be found here.