As many of us remain quarantined inside our homes, gazing at other people's dreamy interiors provides a welcome escape. As expected, Kendall Jenner's Los Angeles abode is no exception. Spotlighted in Architectural Digest's latest "Open Door" video, the model's residence features enviable art, a "glam room," a gold bathtub (yes, really), and so much more.
With designers Waldo Fernandez and Kathleen and Tommy Clements on board, Jenner spent a year redesigning the space. "The overall vibe I was going for was peaceful," she tells Architectural Digest. "I want it to feel super calm." The master bathroom, where the model has a gold bathtub fit for royalty, is a perfect example. According to Jenner, she takes a bath in the tub at least three times a week.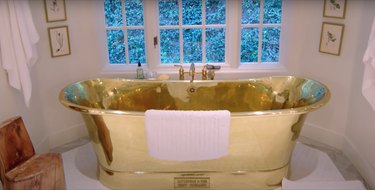 While giving a tour of her "glam room," Jenner states that everyone in the Kardashian-Jenner family has one. It's where their hair and beauty teams work their magic, and apparently, the idea came from Kim Kardashian.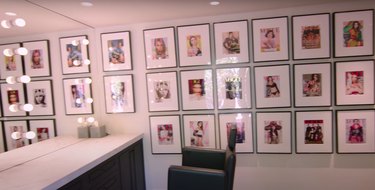 Jenner even has her own art studio (which used to be the home's movie theater). She enjoys painting as a form of therapy, but based on the art around her home, it seems that she also enjoys collecting original pieces. She has a Tracey Emin piece in her master bedroom, Barbara Kruger works in her hallway, and in the home's entryway, there is a James Turrell sculpture.
To see the rest of Kendall's home, you can watch the entire Architectural Digest video here.
---
Anna is a Los Angeles-based writer and editor who covers lifestyle and design content for Hunker. She's written for Apartment Therapy, the L.A. Times, Forge, and more. She previously worked as the lifestyle editor at HelloGiggles and deputy editor at So Yummy. Her email: anna.gragert@hunker.com