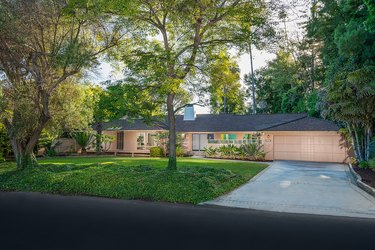 You're going to want to grab a slice of cheesecake and take a seat because the "Golden Girls house" is on sale for the first time in more than 60 years. In other words, we get to take a peek inside the home to see what the interior actually looks like.
The four-bedroom Brentwood, CA residence was used for filming exterior shots during Season 1 of Golden Girls. That might explain why it's listed for a cool $2,999,000, according to Realtor.com (although it will likely sell for around $1.95 million, the site reports). The show's location scouts fell in love with the property's vibrant green landscape — according to James Barry, the son of the original owners — and felt that it would perfectly represent Blanche, Rose, Dorothy, and Sophia's Miami home. That was until the studio decided to borrow the Brentwood home's blueprints so they could build their own duplicate at Disney's Hollywood Studios.
The house itself was built in 1955 and, until their deaths, was owned by Margaret Carr Barry and David Noble Barry III. The couple modeled the home after the Honolulu residence of the latter's father; shoji screens and Japanese wood flooring surround the house.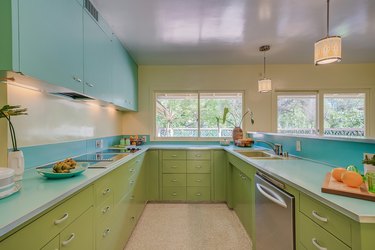 Though Golden Girls's interior shots were filmed on a Hollywood set, the inside of the "Golden Girls house" is still something to behold. The best part is perhaps the kitchen, which features a teal and green color palette — even the countertops are teal! (We're sorry to report that there's not a pink hue or piece of wicker furniture in sight.)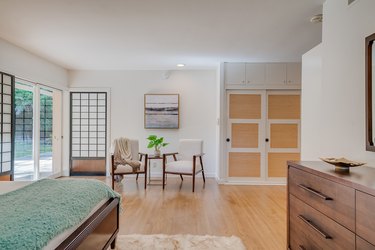 Now, the remaining question is: Who will buy this home? Only time will tell, but our fingers are crossed that the future owner is a Golden Girls fan.
---
Anna is a Los Angeles-based writer and editor who covers lifestyle and design content for Hunker. She's written for Apartment Therapy, the L.A. Times, Forge, and more. She previously worked as the lifestyle editor at HelloGiggles and deputy editor at So Yummy. Her email: anna.gragert@hunker.com