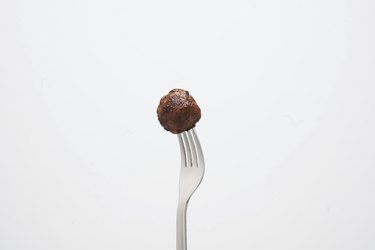 Calling all vegans, vegetarians, and veggie lovers in general: IKEA has finally created a plant-based version of its iconic meatballs, a staple at the in-store restaurant typically served with cream sauce, lingonberry jam, and mashed potatoes.
Eagle-eyed IKEA aficionados might've already spotted the Huvudroll veggie balls on IKEA's menu, but there's a big difference between that product and the new plant ball. While both are made entirely from plant-based ingredients, the Huvudroll veggie balls are a standalone product, while the new plant ball is designed to be a meatless version of the Köttbullar meatball.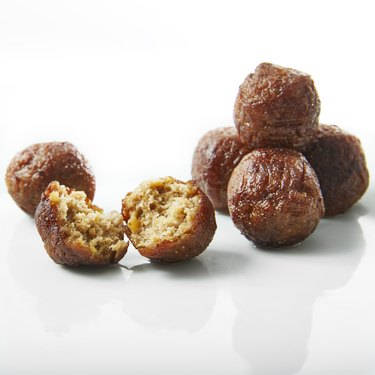 "In the development phase of the plant ball, our key objective has been to recreate the meat-like taste and texture, only using plant-based ingredients," Alexander Magnusson, chef and project leader at IKEA food, said in a statement.
The plant ball's ingredients include yellow pea protein, oats, potatoes, onion, and apple, and they'll be served with cream sauce, lingonberry jam, and mashed potatoes, just like their meatier alternatives. (The Huvudroll veggie balls are made from chickpeas, green peas, carrots, corn, and kale, FWIW.)
And while it's great that the new plant balls will open up the famous meatball dish to non-meat-eaters, it's even better that they're actually contributing towards the company's overall sustainability goals.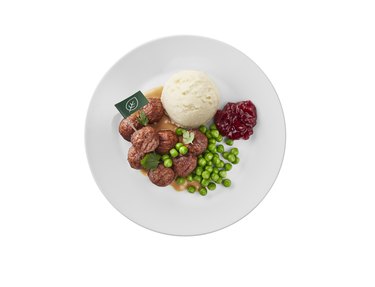 "At IKEA, we sell more than one billion meatballs every year," Sharla Halvorson, global health and sustainability manager for the IKEA food business, said in a statement. "Imagine if we could get some of our many meatball lovers to choose the plant ball instead. If we were to convert about 20% of our meatball sales to plant balls that would mean around 8% reduction of our climate footprint for the food business at IKEA."
So the next time you're (safely) shopping at an IKEA store, pop over to the restaurant to try the new plant balls — and help save the planet while you dine. They'll be available starting September 28, 2020, in the U.S. market. They're also being sold frozen, so you can enjoy them at home!