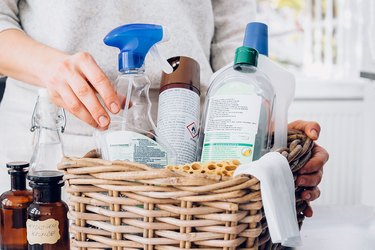 As we keep learning more about COVID-19, we're always on the lookout for the latest. In March, the United States Environmental Protection Agency (EPA) released a list of products "for use against Novel Coronavirus." The list was updated on July 1, and the EPA announced today that it includes two Lysol products that are effective "based on laboratory testing." The products are Lysol Disinfectant Spray and Lysol Disinfectant Max Cover Mist.
The other items on List N "meet the agency's criteria for effectiveness against SARS-CoV-2," but these new additions have been "tested directly." That means the label will now show that you can use them against coronavirus specifically.
No matter what product you use, it's important that you carefully follow the instructions on the label. The EPA has a helpful infographic on proper usage, which includes reminders like making sure you're paying attention to contact time. These steps are a good way to ensure you're using the products effectively.