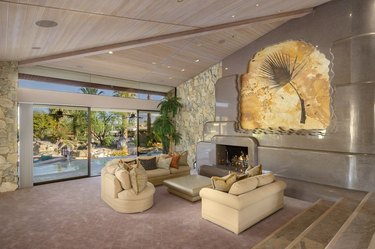 Not sure about you, but this pandemic has pushed our real estate fantasies into overdrive. If there was a "screen time" report just for the time spent on Zillow and Redfin, it would probably say "for the love of god please do something else." It's brought us into some weird territory where we've even considered moving into doomsday bunkers or mansions with Disneyland-like basements.
Our latest obsession came to us via New York Times Metro editor Dodai Stewart:
It's, like, a totally bitchin' party pad! Located in Indian Wells, CA (a short drive from Palm Springs) and offered by Sotheby's, this circa 1989 manse is basically a 12,000-square-foot Caboodle.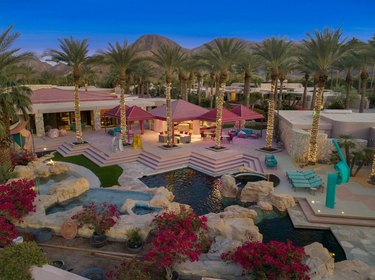 With 7 bedrooms and 14 baths (not sure how that math works out, but excusable seeing as it was the '80s and the contractors were probably doing coke), the property, offered at $5.9 million, has all the hallmarks of '80s excess.
Think: waterfalls, pink marble, neon, lagoons.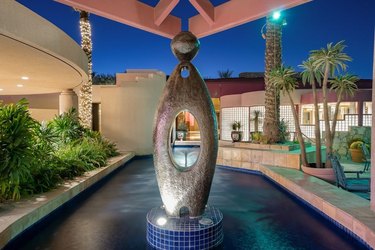 The home's main color palette features baby pink accented with yellow and aqua — a combo that is so utterly '80s we can practically smell the Aqua Net and freshly cracked cans of Tab.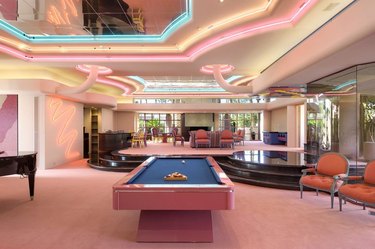 Additional features, according to the description: "Structures include the main residence with master suite and two guest rooms, an entertainment pavilion with a guest house featuring two bedrooms and 2 baths and a dwelling for staff and over-flow guests."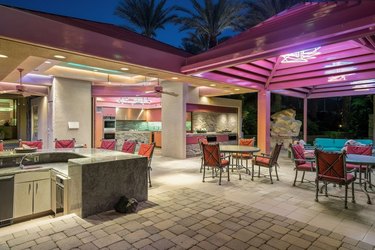 "Exceptional outdoor amusement areas plus 20+ car garage."
The exterior features many sculptural works ...
While the interior also displays some interesting art works, including this enormous, not-at-all-phallic pink marble obelisk.
All jokes aside, the property is actually a phenomenal relic of the era. We're just not sure who could live there and take life seriously. Yet, if this ever opened as a museum or luxury resort, we'd totally be down to check it out.
---
Leonora Epstein is Hunker's Senior Director of Content. She has previously served as Executive Editor at HelloGiggles and as BuzzFeed's Deputy Editorial Director. She is the co-author of "X vs. Y: A Culture War, a Love Story" (Abrams, 2014). Feel free to reach out at leonora@hunker.com.