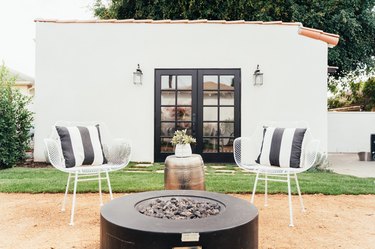 As we continue to navigate the coronavirus (COVID-19) pandemic, it's important that we remain vigilant about the health and safety of ourselves and those around us. Even as stay-at-home orders are lifted, you should still follow the Centers for Disease Control (CDC) guidelines for personal and social activities. To help you navigate these measures, we reached out to healthcare professionals for more information about how you can safely have guests over during the pandemic.
Who should you have over? How many people should you invite?
"You want to limit the number of people that you interact with to a minimum," Dr. Jaime Slaughter-Acey, a social epidemiologist and assistant professor at the University of Minnesota, tells Hunker. "Some entities recommend that you keep social gatherings at less than ten people ... maybe [only] immediate family or friends, [people] who you know have been going about social distancing and other control methods."
The CDC specifically states that you should remind guests to stay home if they are sick or have been exposed to COVID-19 within the past 14 days. "Having guests over or visiting others may not be advisable for some high-risk populations," Dr. Tobi Schmidt, a personal health advisor and educator, tells Hunker.
"It's best to have conversations with people about how many other social gatherings they're going to — the more [gatherings they go to], the larger their social circle and thus risk [of contracting COVID-19]," infection preventionist and epidemiologist Dr. Saskia Popescu tells Hunker. She adds that you should also encourage guests to tell you if they become sick after your gathering, so that you and other guests can prepare for possible contamination.
"Outdoor meetings are best as the ventilation is increased, decreasing viral exposure," Dr. Schmidt says. "However, social distancing and mask protocols should still be observed."
Dr. Schmidt's advice is in line with CDC guidance, which states that gatherings should be hosted outdoors. If you can't socialize outside, the CDC advises that you make sure your indoor space is well-ventilated and that windows are open to promote air circulation. In either setting, social distancing, in which you are at least six feet away from others, is recommended. This applies even when you are greeting others. "Wave and verbally greet them," states the CDC.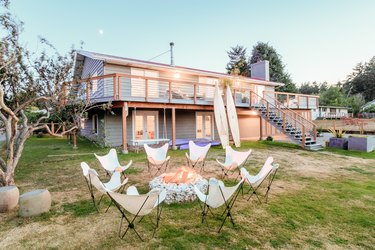 Should you all wear masks?
The CDC states that you should wear cloth face coverings when you're in a public setting, which includes social gatherings. This is especially the case if you're hosting an indoor gathering that makes social distancing difficult.
Dr. Slaughter-Acey suggests providing clean cloth masks for your guests when they arrive at the event. They can then take these masks home and wash them themselves. Or, they can place them in a designated laundry basket for used masks, which you can then clean and sanitize after placing the used masks in the washing machine.
For times when wearing a mask isn't possible — like when you're eating or drinking — Dr. Popescu says, "That's why keeping the [event] small and hopefully outdoors with social distancing, if possible, is great. A lot of this is about harm reduction." In other words, when having guests over, you should do everything you possibly can to prevent possible COVID-19 exposure.
Should people bring their own food, drinks, and utensils?
"When you're having people over, you want to minimize potential touch points that can lead to transmission … If it's a gathering that's going to involve food, it would be great if people brought their own food and utensils," states Dr. Slaughter-Acey. She adds that a socially distanced picnic, in which guests bring their own food and utensils, would be a smart idea.
If you are preparing food and drinks that others will consume, Dr. Slaughter-Acey advises, "Try to minimize food that multiple people would have to touch. So maybe it's a food item that one person serves and hands out to people individually — instead of a buffet." If guests are also unable to bring their own utensils, Dr. Schmidt adds, "Dishwasher safe dinnerware can be safely cleaned of the virus in a normal dishwasher cycle. Disposable dinnerware is also fine, but hard on the environment." Compostable dinnerware can be purchased to mitigate this.
No matter what, make sure that if it's an outdoor event, hand sanitizer that contains at least 60% alcohol is available. If it's indoors, reinforce that guests should be washing their hands for at least 20 seconds before serving or eating food.
What do you do when a guest needs to use the restroom?
Firstly, you should emphasize that forming lines outside the bathroom is not in line with social distancing measures.
To prepare for guests using the restroom, make sure that your bathroom is supplied with adequate hand soap and that you encourage guests to wash their hands for at least 20 seconds. When it comes to people drying their hands, Dr. Slaughter-Acey says, "Instead of having a cloth hand towel, you can have paper towels or paper towels that are made from recycled products." However, if you want to utilize reusable cloth towels, Dr. Slaughter-Acey suggests having a basket with clean hand towels, which guests can use and then place in a separate basket for used hand towels that you will then wash after the party's over.
"Since the virus has been found in sewage, it is best to flush the toilet with the lid down. This will decrease the amount of viral aerosols that make it into the air," Dr. Schmidt adds. "People should also keep their masks on when using the bathroom."
When asked about how often you should clean the bathroom while guests are over, Dr. Slaughter-Acey states, "I would recommend going into the restroom and doing a quick cleaning at least once an hour. Spray down surfaces that are high-touch points — like the nozzle on the sink, the doorknob, the toilet handle — with a product that kills 99.9% of viruses and bacteria, like Lysol." The CDC states that you could even provide guests with cleaning supplies that they can use to wipe down these surfaces before exiting the restroom. For this type of sanitizing, you can find a list of EPA-registered household disinfectants here.
When you are cleaning the bathroom after a party, the CDC mentions that you should also use gloves when handling and disposing of trash or other used items. With this in mind, touch-free garbage cans are ideal, especially if you plan to continue hosting gatherings during the pandemic.
Though it may seem annoying to employ rules for your guests, we all have to do our part when preventing the spread of COVID-19. To learn more about how to handle daily life and going out during the pandemic, the CDC's official guidelines can be found here.