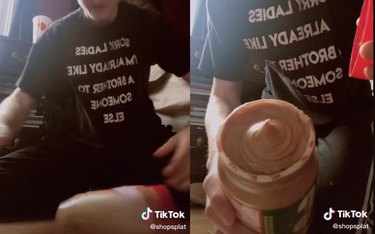 Part of the joy of keeping an organized pantry or fridge is keeping your food stock at ideal levels. Meaning, you don't have a sad family of 75% used-up staples that stay untouched because you couldn't bother and just bought a new one. (The waste!)
One of the biggest pantry annoyances? Peanut butter jars that clearly have enough in them for a few more sandwiches, but the stuff is spread out all over, making it tough to get a clean scoop. Seeing as TikTok has become a source of modern household wizardry, it comes as no surprise that a peanut butter jar hack has gone viral on the platform. As user @shopsplat demonstrates, all you need to do is spin the jar several times on a flat surface. The centrifugal force pushes the peanut butter to the top of the jar, making it look almost brand new. (We'd imagine that the results vary a bit based on the temperature of your PB as well as the make.) Still ... we'll definitely be trying this on our next frustrating jar of peanut butter.
---
Leonora Epstein is Hunker's Senior Director of Content. She has previously served as Executive Editor at HelloGiggles and as BuzzFeed's Deputy Editorial Director. She is the co-author of "X vs. Y: A Culture War, a Love Story" (Abrams, 2014). Feel free to reach out at leonora@hunker.com.
View Work