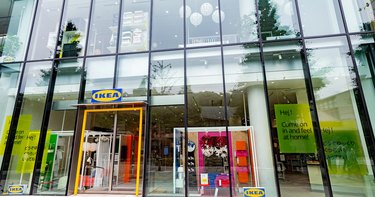 One of the worst (or perhaps the best) things about IKEA is that the store is just overwhelmingly huge. It's got a maze-like floor plan that inevitably leads you to wander aimlessly through room mock-ups for hours, then purchase far more than the bookshelves or bath towels you originally came in for. Thank goodness for the Swedish meatballs at the end of the journey to restore your energy. But IKEA has just introduced an entirely new experience: a convenience store in Tokyo's Harajuku neighborhood. It's roughly 27,000 square feet of retail space, which is far smaller than a standard IKEA store's typical 300,000-square-foot footprint.
While the company has dabbled in small-format furniture stores in city centers (they're currently in New York, London, and Paris, with more in the works), IKEA Harajuku sells more than furniture — it includes a konbini, a quintessential Japanese convenience store where you can get everything from an espresso to a plant-based sundae.
IKEA Harajuku also has a separate café, but don't expect Swedish meatballs here. The menu features bröd tunnbröd, or flatbread, in sweet and savory flavors, plus soups and juices.
We can't wait to try this new IKEA experience out for ourselves. You know, once we can all travel again.