We get it; everyone's going more than a little stir crazy in the house. And even though Zoom happy hours with your respective friend groups are fun (especially if you add a splashy background), sometimes you need a little something more to spice up those video calls. Because awkward silences seem a whole lot more awkward via webcam. That's where multi-player computer games come in. You can invite all of your buddies to join you in a virtual game room, and use Zoom video to chat while you play. From Bingo to group trivia to Go Fish, there all kinds of online activities that can inject life into your weekly calls.
As a plus, you can even gather your most technologically-challenged family members to play these games on Zoom. They're actually super easy to navigate (whether you're a few drinks in or not).
Here are a few of the ones we can't stop playing.
1. Jackbox Games
Jackbox Games have actually been around since the early '90s, but the platform seems especially relevant now. There are dozens of different available games, and they're all just a little bit irreverent. Some of our faves are Fibbage (a bluffing game), Quiplash (a game of wit), and Trivia Murder Party (a quiz game that makes you square off against a fictional trivia-loving criminal).
But you can also purchase a party pack of five or more Jackbox Games (we recommend splitting the $12.49 cost with your Zoom group) for even more choices that will definitely make your virtual hangouts a lot more interactive.
2. Playing Cards
This online game definitely isn't trying to trick you with a catchy name or gimmick. If you log on to Playing Cards and share your game link with the Zoom crew, you'll be ... you guessed it, playing cards. But there are other tabletop games as well. The site has nearly everything imaginable from Go Fish to Cribbage, and you can even access a standard deck that can be customized for any card game that's not in their library. You can invite as many players as you'd like. And the best part is Playing Cards is totally free!
3. PSYCH!

PSYCH! is actually a mobile game that you can download (no payment necessary) from the App Store, but you can easily incorporate the sleuthing game into your Zoom happy hour sesh. Simply have everyone download the application on their respective phones, log into the group video call, and follow the prompts on screen. The object of the game is to determine which players are making up fake answers to the real trivia questions and which player actually has the true response.
4. Heads Up!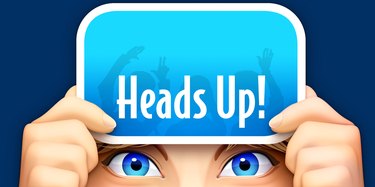 Made by the same creators as PSYCH!, Heads Up! has a similar game model. You and all of your Zoom buddies download the free app (only one person really needs to have the application, though), then select one participant to hold their phone to their forehead at a time. The app will generate a game card with a word on it that the lucky person has to guess based on the other players' responses — sort of like Charades. The categories vary from celebrities to animals to talk show hosts. But you'll have to make sure the player with the phone doesn't cheat by looking at their own camera in Zoom!
5. Virtual Bingo
We all know Bingo; it's one of the most classic games ever. And now it's online for all of your quarantine party needs at My Free Bingo Cards. Up to 30 people can play for free at a time, and all you have to do is designate a "caller" to shout out the Bingo squares over Zoom video.
6. Monopoly
You. Can. Play. Monopoly on Zoom. Need we say more? Turns out you can access what's possibly the best, anger-inducing board game ever online with a group of your choosing through Pogo. The online gaming platform offers the Monopoly World Edition, so you can buy properties in some of the world's most lush cities (you're not limited to the classics like Connecticut Avenue and Park Place). Simply drop the game link in your Zoom chat room, and get rolling virtually.
7. TriviaMaker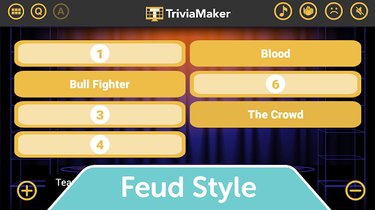 TriviaMaker gives you and your virtual group multiple ways to get that quiz show fix. The online platform has games that follow the format of popular TV programs like Family Feud, Wheel of Fortune, and Jeopardy__. To play, simply create a game on the website then share your screen in Zoom, and people can type their answers to the trivia questions in the chat. If you want to up the competition factor, though, split your friends into teams using the Zoom Breakout Room feature.