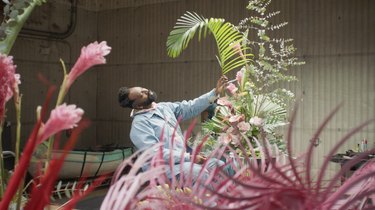 Here at Hunker, we're always inspired by designers, makers, and entrepreneurs pushing the envelope of interior design and decor. One of these major figures: Florist Maurice Harris, who creates jaw-dropping, stunning floral arrangements. Harris also opened Bloom and Plume Coffee in Los Angeles, and now he's going to have his own show.
Quibi's upcoming series Centerpiece, features Harris creating gorgeous floral artwork with pop culture stars like Maya Rudolph, Tessa Thompson, and Rashida Jones.
Harris sits down with each guest to chat, asking questions like "what's your guilty pleasure?" and "when and where were you happiest?" After these conversations, he puts together a centerpiece based on their journey of exploring each person's personality and creativity. (The trailer itself is gorgeous and full of color, texture, and relaxing natural spaces).
We can't wait to watch and take away some inspo for our own at-home arrangements. The show premieres May 18 on Quibi.