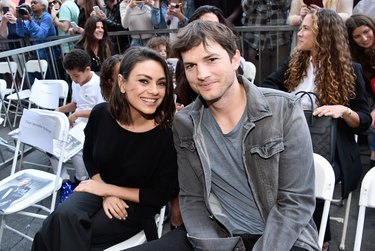 Ashton Kutcher: "These are unprecedented times that we're living in, and unprecedented times call for ... "
Mila Kunis: "More drinking!"
We couldn't agree more Mila!
All joking aside though, actors and annoyingly-adorable husband-and-wife team Ashton Kutcher and Mila Kunis wanted to figure out a way to combine a few of their favorite pastimes — working with charities, connecting with loved ones, and you guessed it ... drinking. So they reached out to friend and Nocking Point winery co-founder Andrew Harding to create a Quarantine-themed bottle of wine that would help some of the charities and organizations that they've chosen to support after personally vetting. A little brainstorming and a virtual wine-tasting later, they were able to turn the idea into a reality and created "QUARANTINE" Pinot Noir. 100 percent of the profits will be donated to the COVID-19 relief efforts of: Give Directly, Direct Relief, Frontline Responders Fund, and America's Food Fund.
Additionally, you can make someone's day with the help of the interactive label. Mila had the "brilliant idea," Ashton explains in a video that Nocking Point shared on the Quarantine Wine website, to design a label with enough room to write a message of love and support directly to friends, family, first responders, or anyone else that could use a little recognition. The label is mostly blank, except for the words "Toasting To:", prompting you to write a heart-felt note directly on the bottle.
Orders begin shipping the first week of May, but you can pre-order yours now. And with all of the virtual happy hours, game nights, date nights, dinner parties, and more, everyone's wine rack could use a little restocking by now. The cost starts at $50 for two bottles, which goes directly to those who need it — now that's something that we can toast to. Cheers!