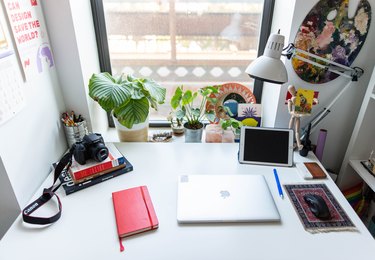 With so many needs during this trying time, we've noticed a few companies changing the direction of their production or adding new items. Many brands are focused on creating face masks, although there are other needs in place as well. (You can even follow steps on how to make your own face masks at home — just be to sure to pay attention to instructions and disclaimers regarding the protection they offer).
Here are some companies we've noticed offering new items, donating profits, and more.
Airbnb
As part of a new global initiative, Airbnb will offer "free or subsidized housing for healthcare professionals, relief workers, and first responders." The company hopes to reach 100,000 people from these sectors around the world.
Avocado
Using organic cotton canvas, these face masks created by Avocado are meant to at least help offer some protection to households. Although they aren't N95 medical masks, they can get washed and reused. The company also urges facilities to reach out for mattresses and bedding needs.
Big Bud Press
Los Angeles-based small business Big Bud Press is currently accepting donations to create face masks with 100% cotton jersey inner linings and 50/50 poly cotton blend (waterproof) outer linings. The masks can also be used with filters. So far, the brand has donated masks to medical centers, community clinics, and more.
Christian Siriano
Dyson
According to CNN, vacuum cleaner and hair dryer company Dyson will create 10,000 ventilators at the request of the UK government. The company will reportedly also donated 5,000 to global efforts against COVID-19.
Everlane
Hedley & Bennett
Working with Dr. Robert Cho, Chief of Staff of Shriners for Children Medical Center in California, Hedley & Bennett created reusable masks designed to be used with a filter. Their site allows you to buy and donate a mask (one for you, one for a first responder) or just donate. The masks are 100% cotton; note they are not FDA-approved.
MATE the Label
Los Angeles-based fashion brand MATE the Label focuses on organic, non-toxic materials. The company now accepts donations for the production of masks made of 100% cotton poplin, gauze, and jersey. They will be distributed to groups like medical staff and grocery store workers.
Tito's Vodka
Don't get confused: you still shouldn't use Tito's Vodka as a hand sanitizer. But the company is releasing its own sanitizer soon. The brand shared on Twitter that it will soon "begin production on 24 tons of hand sanitizer that adheres to industry and governmental guidance."