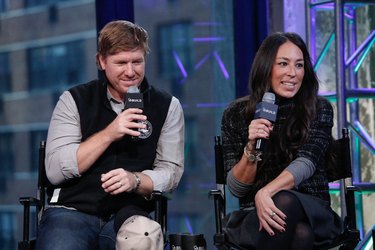 We're just under seven months out from the official launch of Chip and Joanna Gaines' new Magnolia TV network (scheduled to hit the air on October 4, 2020), but we've just gotten a little teaser to tide us over 'til then. As announced by People, one of the series that's been greenlit by parent company Discovery is called Growing Floret, and it's all about transforming 20 acres of damaged land in Washington into a blossoming flower field over the course of the year. Behind this journey is the Benzakein family, who run the sustainably-minded Floret Flower Farm. The farm also supports "flower farmers, gardeners, and floral designers who provide locally grown blooms," according to its website.
"Programming will center on home and gardening, food, design, lifestyle, and most importantly, community," according to the Floret blog.
The show will also focus on highlighting the team's overarching mission.
"When we set out on the journey of starting this network, we did so knowing we wanted to tell stories of people who are chasing big dreams for the right reasons," Jo told People__. "Ever since discovering the incredible team behind Growing Floret, I have been endlessly inspired by the grit, hard work, and beauty that they're putting into the world."
Growing Floret is the second program to be formally announced by the network, with the first being Home on the Road, a six-episode docuseries about husband and wife band Johnnyswim as they bring their kids on tour.