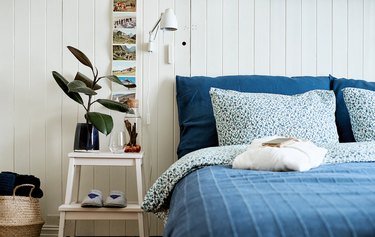 A lot of us already see organization as a way to relieve stress, and now IKEA Australia wants to join that conversation with a new ASMR video. Yes, you read that correctly — the Swedish retailer produced a video that's seemingly about organizing a bedroom. But, it's really just an excuse to hear soothing sounds coming from a person scratching their nails on IKEA products, fluffing the bed, and generally crinkling and wrinkling products.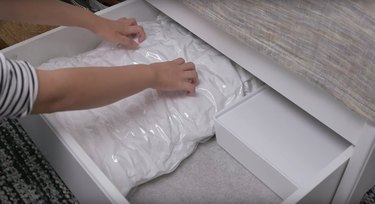 The video starts with a view of a messy bedroom (ugh! the horror!) before a stranger (aka our tidying angel) starts putting things where they actually belong, like in storage drawers under the bed. It's not IKEA's first foray into this YouTube phenomenon, but this new video is markedly more minimal than a 2017 one that features someone actually speaking about each product.
Every time the organizational pro in this recent video pro picks up an object, they brush their hands against the materials to create those soothing sounds ASMR lovers know all too well.
It's like Marie Kondo but without the talking. Fifteen minutes later, viewers will feel all the more relaxed... except for the person who commented "truly horrible" on YouTube, and probably anyone else who doesn't get the trend.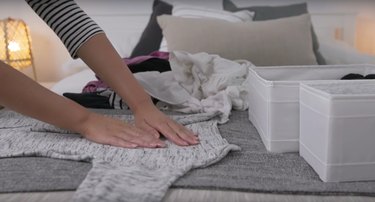 IKEA Australia is declaring February 29 as National Tidy Day, so organizational enthusiasts can get their tidying on in whatever way works best for them.