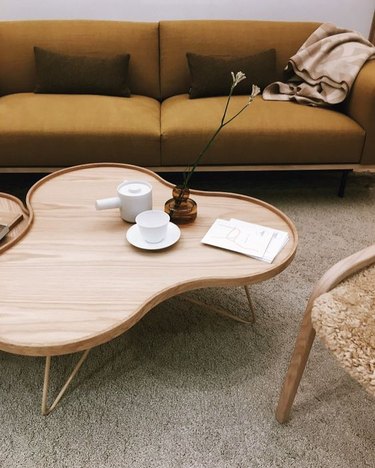 Architects, designers, buyers, press, and more travel from all over the world to soak up Scandi inspiration in the form of events, workshops, panels, exhibitions, and installations showcasing everything from furniture, lighting, floor coverings, wallpaper, decor, accessories, and so much more. Sadly the 2020 edition has come to a close, but we're taking a look back at five of the hottest trends from the show. Scroll on for a serious dose of Nordic style.
1. Sculptural Light Fixtures
Organic sculptural shapes are taking over the world of design right now, especially when it comes to lighting. Whether it's a pendant, chandelier, or a luminous piece of art, gone are the days of selecting basic fixtures to brighten your space. Now everyone is looking for a statement piece to add a little drama and artistic flair. And with so many material, color, and manufacturing options available, not to mention impeccable craftsmanship, lighting designs are more intricate and unique than ever before. Here are three examples that caught our attention from YLighting, Doshi Levien, and Showroom Finland.
2. Ochre and Terra Cotta Palettes
We're not sure if it's because spring is quickly approaching, or perhaps it's the fact that we all miss the warmth of summer, but earthy shades of ochre and terra cotta seem in high demand these days, and we for one aren't mad about it. Running the gamut from bold and vibrant to subtle and muted, there is a wide color spectrum to choose from. And with popular brands such as &Tradition, Artek, Juul Furniture, and Abstracta Stystem jumping on the bandwagon, there are a wide variety of beautiful ways to incorporate the hue into your home while still staying true to your personal style.
3. Curvilinear/Wavy Silhouettes
Curved furniture has been trending for awhile, but now we are starting to see brands like Made by Choice, Swedese, and Offecct are taking things a step further by using wavy silhouettes instead. The playful and abstract designs promise to add a sense of whimsy to any space, while still providing you with the functional pieces that your home needs. Not to mention, it's a fun way to add visual interest and unique flair, too.
4. Modular Seating
We first noticed modular seating's rise in popularity at the January edition of Maison & Objet, and it doesn't appear to be slowing down anytime soon. With our ever-growing and fast-changing lives, the more flexibility one piece of furniture can provide, the better. And while we aren't opposed, modular furniture isn't exclusive to rectilinear block shapes — curves are also welcome. Note Design Studio, ISKU, Destroyers/Builders, and Offecct (in the above image) are just a few of the brands showing us how it's done.
5. Cool Pastels
Just in time for spring, pastel hues seem to be picking up steam, and it would appear as though brands such as Swedese, Pedrali, and Materia AB got the memo as well. From minty green to dusty rose and everything in between, these ice cream-colored shades are no longer relegated to baby nurseries. In fact, adults are enjoying these cool palettes, too. And what's not to love? Pastels have the ability to offer a hint of color without distracting from or overwhelming your entire design, which coincidentally also makes them great for small spaces.
---
Ariane Moore is Los Angeles-based writer and editor who covers architecture, design, home decor, and trends for Hunker. She has a B.S. in Interior Architecture and Design and previously worked as an interior designer at award-winning firms in both Las Vegas and Los Angeles.