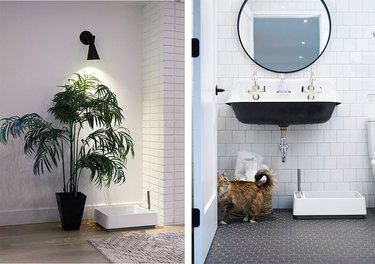 Sharing a bathroom with a cat (or two) means adjusting your usual routine. You need enough space for the litter box to fit without disrupting your aesthetic; you have to remember to clean it regularly; and you need to pick up any stray litter so your guests don't step in it.
Modern pet furniture brand Tuft + Paw wants to make the whole litter situation a lot easier. The company recently announced Cove Litter Box, available for pre-order on Kickstarter exclusively, which combines functionality with clean design. The look came together after lots of experimenting, along with insights from engineers and cat behaviorists.
The litter box, made of recycled plastic and toxin-free materials, basically looks like a straightforward white box with a little stick coming out of it. That's actually the handle for the litter scooper; next to it are a dustpan and a brush. All of these pieces slide back into a special compartment that keeps them hidden from sight but conveniently nearby.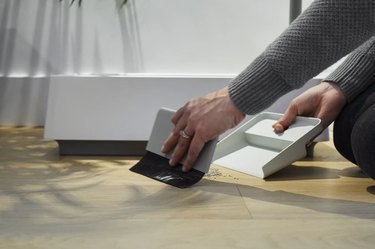 The litter box will come in three colors if the Kickstarter campaign hits its stretch goal: Sand, Seawash, and Salmon. The beige, green, and pink-ish colors are just used on the scoop handle and bottom of the box, in keeping with the minimal design. If the campaign hits $250,000, the brand will offer "Dark Cove," an all-black version that looks like what Darth Vader would buy for his cat if he owned one.
The Cove Litter Box will ship around June 2020, so your feline will have plenty of time to say goodbye to its current box.