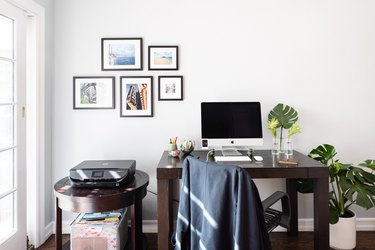 For some of us, planning out the perfect space includes the ability to incorporate a home office. That's because plenty of people now work remotely, either full-time or for a side gig. And it turns out the city where you choose to settle down can make a big difference. The career-related site Overheard on Conference Calls recently released findings on what places in the U.S. are best for working remotely.
Working outside of an office is not a rare thing anymore. Out of the 1,202 U.S. full-time workers that Owl Labs recently surveyed — aged 22 to 65 — a whopping 62% work from home in some capacity, and 30% of those surveyed work remotely full time. They work in areas spanning from healthcare to technology. In addition, Harvard Business Review released findings that showed both higher output and better quality results were linked to remote working.
With that mind, though, how do you choose what city to work remotely from? You might have your perfect work space mapped out on Pinterest, but if the actual location seems unclear, Overheard on Conference Calls's new information might help narrow down the possibilities. The site looked at five major factors: WiFi speed, coworking spaces, coffee shops, living cost, and commute time savings.
Turns out that Kansas City tops the list, with a high score for WiFi speed but also average living cost. Here are the top 10:
Kansas City, MO
Salt Lake City, UT
Austin, TX
Raleigh, NC
San Antonio, TX
Denver, CO
Atlanta, GA
Richmond, VA
Dallas, TX
Las Vegas, NV
If you're planning on moving soon and working remotely, this info might help you get started on weighing your options. Learn more about the study here.