While there is no shortage of cool tiny houses and hip micro-apartments to drool over, we would like to turn your attention to a new small space design trend: transforming spaces. Filled with foldout furniture pieces and convertible decor items, transforming homes might very well be the future of tiny urban living.
To prove our point, we rounded up a few petite but practical transforming spaces that are presently making major waves in the tiny living community. From a 350-square-foot multipurpose studio to a pull-out-style apartment with concealed storage solutions, here are three convertible homes that might make you rethink the functionality of your current place.
LE2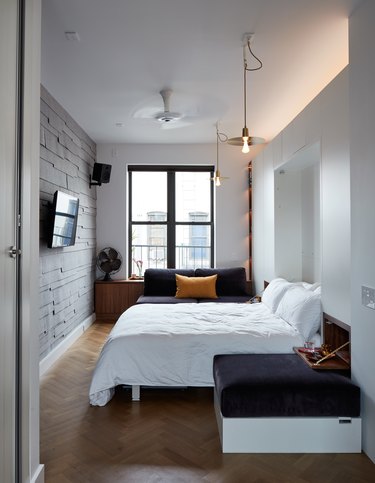 In the SoHo neighborhood of New York City, LifeEdited founder Graham Hill turned a 350-square-foot apartment into a convertible, multipurpose space that reflects his company's "less but better" philosophy. Dubbed LE2, the micro-apartment can change its layout to accommodate a bedroom, guest room, home office, and a dining room, thanks to a clever array of transforming furniture pieces from Resource Furniture.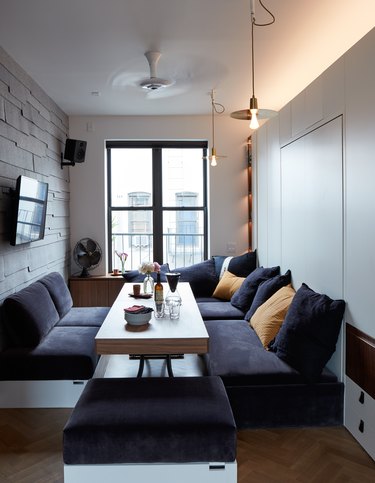 In the living room, a Murphy bed with a built-in sofa folds down to forge a master bedroom with a foldout nightstand, and a coffee table lifts and expands into a dining table that seats up to 10. And with the help of an accordion door and a fold-down desk, Hill converted a small nook inside the apartment into a multifunctional room that can switch from home office to guest room — complete with a minibar — in seconds.
"Transforming designs allow you to get more from less so they are a great strategy for small living," Hill says. "If you can get double or triple function from a space, it saves you money and reduces your [environmental] footprint."
13m2 House
In the heart of London, designers Nina Tolstrup and Jack Mama of Studiomama custom outfitted a 140-square-foot home with a slew of small space-savvy transforming furnishings. Inspired by the tiny interiors of house boats and caravans, the micro-house, also known as the 13m2 House, features a convertible bedroom, work space, lounge area, kitchen, bathroom, closet, and dining area.
The bedroom boasts a hidden pull-down bed and sliding cabinet doors that reveal several rows of storage shelving. Additionally, one of the doors opens to a foldaway standing desk with enough surface space for a laptop and table lamp. And in the kitchen, an extendable table and banquette benches foldout to accommodate extra guests.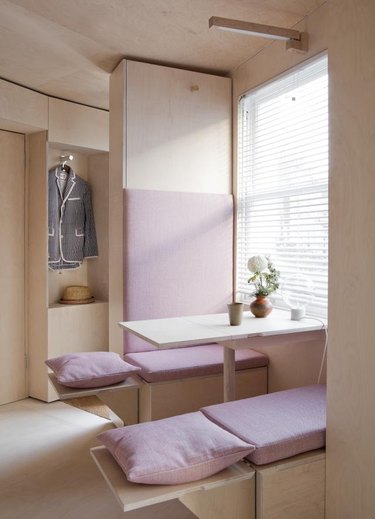 "When designed thoughtfully, it's possible to create very small spaces that feel comfortable and more livable than bigger, inconsiderately designed spaces," Tolstrup says.
Pull-Out Apartment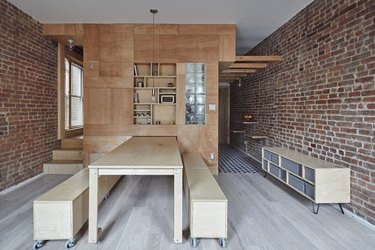 In uptown Manhattan, Russian architect Peter Kostelov used foldout furniture pieces to transform a tiny, two-bedroom apartment into a three-bedroom home with two separate offices to boot. Drawing from the ultra-functional designs of the rational living spaces constructed during the housing crisis following World War I, Kostelov maximized the space with foldaway furnishings that can quickly be pulled out (or put away) depending on the dweller's needs.
In the living room, a 12-person dining table and benches (with built-in storage) pull out from the wall, as does a foldout bed. In the kitchen, several dropleaf tables are mounted to the walls to offer up extra surface space for food prep. And nearly all of the storage solutions inside the space are concealed with sliding doors, to keep unsightly clutter from plain sight.
"Usually we don't need all of our different rooms to function at the same time," Kostelov says. "The solution is to design a multifunctional space with transformable elements, like folding tables and Murphy beds, so people can comfortably live in small spaces."