1. Dominant Color Trends: Greens, Dusty Pinks, and Mustard Yellows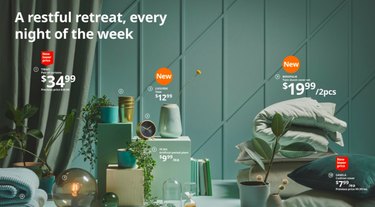 Unlike seasons of IKEA catalogs past, 2020 is a symphony of color. Three colors stood out to us: Green (in many varieties including dusty sages, seafoam, emerald, and mint), pink (in rich and dusty hues), and mustard yellow.
2. Brass Kitchens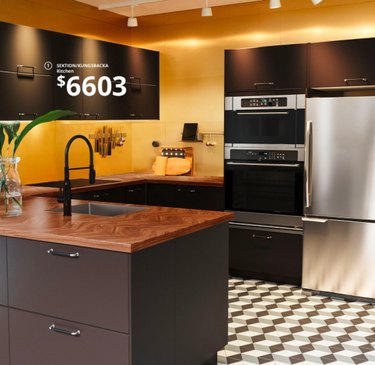 Looks like IKEA has taken the brass-in-the-kitchen trend one step beyond cabinet detailing, by showing off walls entirely done in brass. Loving it.
3. Black Doors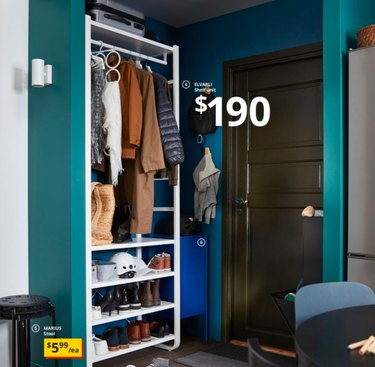 Black doors have been a great idea for the past few years, and IKEA proves that it's something to keep in mind even now.
4. Loud Eclecticism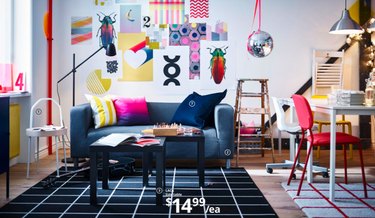 Many of the setups in the catalog mix up multiple styles, colors, and patterns in ways that almost feel messy.
5. Black Kitchens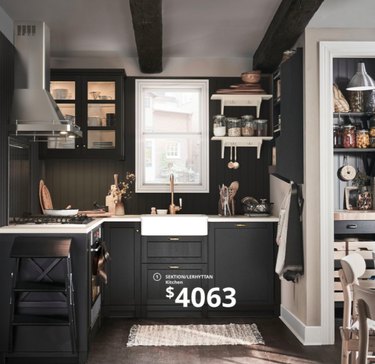 Okay, here's one we didn't see coming. Are black kitchens the new navy kitchen?
6. Earthy Maximalism
As far as overall styles/looks goes, it seems that IKEA's strategy this year is to mix two (or more) aesthetics together. The catalog includes many earthy tones and textures, but instead of doing the expected minimalist thing with those elements, they packed spaces full of stuff.
7. Color Blocking: Take #1
Color blocking has been big for paint this past year. IKEA showed us multiple color blocked rooms and they had many takes on how to do it. This first one inspires us to paint a wall and ceiling in the same shade, and contrast with another hue on an adjacent wall.
8. Color Blocking: Take #2
If you are confident in your paint skills, you could try this riskier color blocking move: creating a rectangle inset of color that covers two walls.
9. Monochromatic Schemes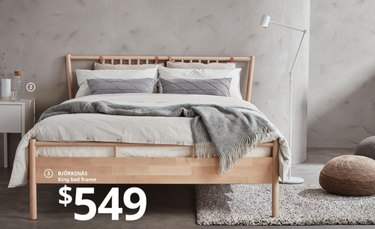 Whether it was in more neutral hues or pops of color, the Swedes offered so many ways to play the same color family in a room.
10. Unfinished Paint Jobs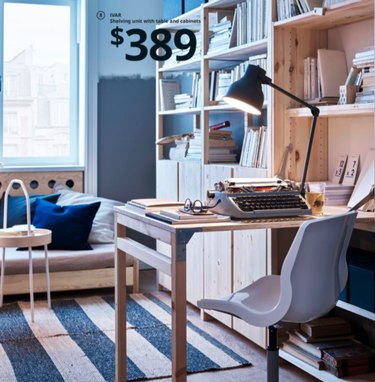 Here's one we haven't really seen before: Try painting a contrasting color halfway up a wall, but leave it purposefully unfinished.
11. Grouping Pendants of Different Shapes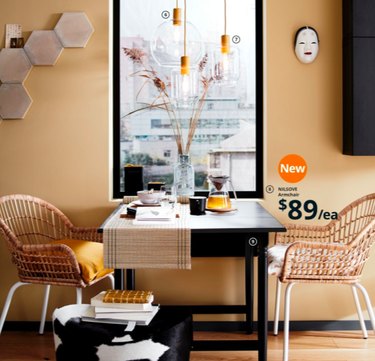 Want to create some visual intrigue over a dining table? Try creating a group of pendants of different shapes, placing them all at different levels.
12. Bold and Moody Bedrooms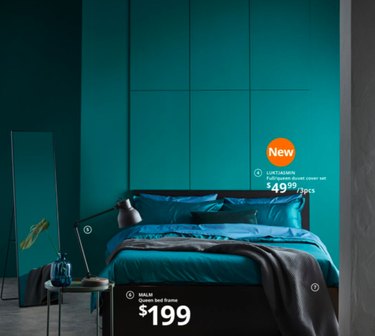 Deep and rich hues were all over the new catalog — but we loved them the most in the bedroom setups.